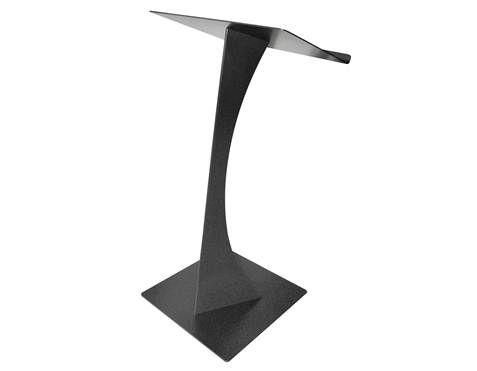 Trilite 200 Blade Wedge Plate Lectern - Black
BLADE LCT BLK - Special Order Item
Usually shipped within 2-3 working days
---
---
Blade Wedge Plate Lectern in black coat finish offers a sleek, clean, contemporary design with a narrow profile for maximum visibility of the speaker.
The OPTI Blade Lectern, BLADE LCT, is a sleek stylish example of a folded metal lectern.
This OPTI Blade Lectern is available in a wide range of different finishes and can be made with custom tops and bases.
Features
Offers a sleek, clean, contemporary design
With a narrow profile for maximum visibility of the speaker
Stylish example of a folded metal lectern
Available in Silver, Black or White
Product Code: BLADE LCT.S/B/W
Special Order Item
Specifications
200 Blade Lectern Wedge Plate
Powder Coat Finish
Available in Silver, Black or White
Product Code: BLADE LCT.S/B/W
Weight: 12kg
Manufacturer: Trilite 
---
We Also Recommend