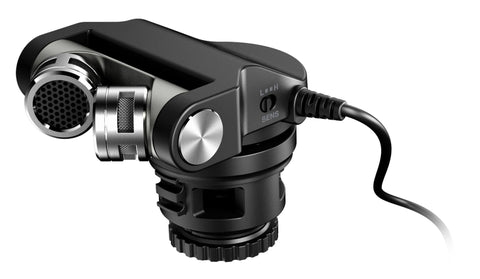 Tascam TM-2X XY Camera Mic
TM-2X
Usually shipped within 2-3 working days
---
---
The directional condenser microphones equipped on the TM-2X are the same mics used in our highly-regarded DR-series recorders.
The X-Y pattern and two mic capsules are ideal for capturing a true representation of the sonic atmosphere, whether it's sound from a wide area or directly in front of the camera. As a result, the TM-2X records pristine sound that fits naturally with the recorded video.
We have consistently utilised our expertise in developing recording devices that focus on the design of the analogue circuits behind the mic capsules. As a result, the TM-2X achieves a high performance rating and a frequency response of 50 Hz to 20 kHz. Furthermore, we designed the TM-2X with the capacity to handle high sound pressures up to 120 dB SPL to prevent distortion even in loud scenarios.
Product Features 
Same mics used in the highly-regarded DR-series recorders
Ideal for capturing a true representation of the sonic atmosphere
Records pristine sound that fits naturally with the recorded video
Consistently utilised expertise in developing recording devices
TM-2X achieves a high performance rating and a frequency response of 50 Hz to 20 kHz
Capacity to handle high sound pressures up to 120 dB SPL to prevent distortion
Product Specifications 
Microphone type cardioid
Frequency range 50Hz to 20kHz
Maximum input level 120dB SPL (at 1kHz, SENS:H, LCF=Flat, RL:2.2kΩ, Vcc:2.5V)
Output impedance 1.6k ohms (RL:2.2kΩ, Vcc:2.5V)
S/N ratio 74dB (at 1kHz, 1Pa, A weighted)
Mic sensitivity switch SENS H:-37dB, SENS L:-52dB, (at 1kHz, 0dB=1V/Pa, RL:2.2kΩ, Vcc:2.5V)
Cable length 33cm
Plug 3.5 mm (1/8'") TRS stereo mini plug, (Tip: left channel, Ring: right channel, Sleeve: GND)
Plug-in power (JEITA standard CP-1203A)
TM-2X main unit 57(W)×59(H)×69(D)mm(not including cable and connectors)
Noise isolation arm 34(W)×57(H)×142(D)mm
Weight TM-2X main unit 75g
Noise isolation arm 41g
Operating temperatures -5 to 45˚C 23 to 142˚F
Manufacturer: Tascam
---
We Also Recommend