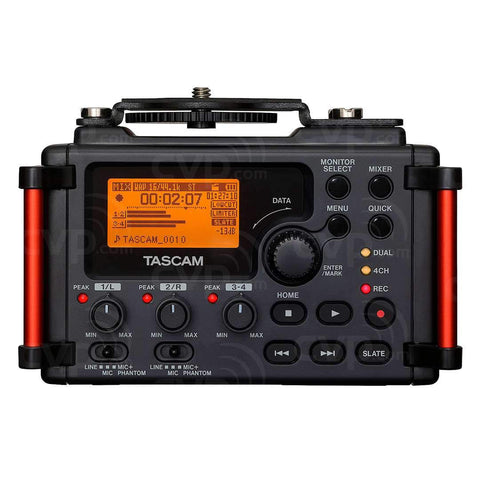 Tascam DR-60DMKII
DR-60DMK2
Usually shipped within 2-3 working days
---
---
The DR-60D MKII is a brand new 4-track solid-state recorder utilises high-grade HDDA pre-amps, legendary AD converters, and a durable but lightweight structure and shape.
This device will fit snugly under any camera or into any rig, and record up to 96kHz/24-bit high quality audio straight to SD/SDHC media.
Filmmakers have at their disposal two 1/4"-XLR Locking Combo MIC/LINE Inputs, 3.5mm Stereo MIC Input, Camera In, Camera Out, Line Out and Headphone Out. Both 1/4"-XLR Combo Inputs supply +48V Phantom Power and the 3.5mm Input supplies Plug-In Power for microphones requiring a bias voltage. 
Product Features 
Award winning DR-60D is the new audio recording solution
For on-set filmmakers and videographers using DSLR's. For years
Designed an answer that pros and amateurs alike have been waiting for
Brand new 4-track solid-state recorder utilizing TASCAM's decades of experience
The recorder utilizes high-grade HDDA pre-amps & legendary AD converters
Durable but lightweight structure and shape
Product Specifications 
Recording media SD card(64MB to 2GB), SDHC card(4GB to 32GB)
Recording format 
WAV 44.1/48/96kHz, 16/24bit
BWF 44.1/48/96kHz, 16/24bit
Number of channels 4channel (stereo x2)
Analog audio input 
1/L, 2/R connectors 
Connector XLR-3-31 (1:GND, 2:HOT, 3:COLD)/6.3mm(1/4")TRS standard jack
Set to "MIC / MIC+PHANTOM" 
Input impedance 2k ohms
Phantom power 48V +/-4V(10mA/CH) / 24V +/-4V(10mA/CH)
Maximum input level 0dBu
Minimum input level -72dBu
MIC input gain TRIM MAX
LOW +11dB
MID +36dB
HIGH +52dB
Manufacturer: Tascam
---
We Also Recommend