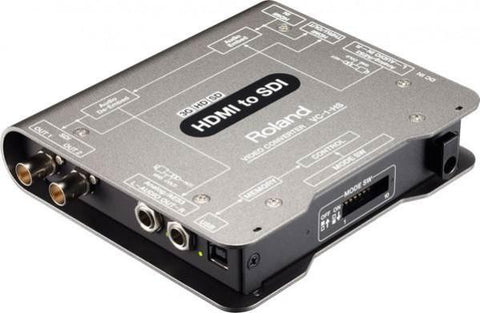 Roland VC-1-HS Video Converter
VC-1-HS
Usually shipped within 2-3 working days
---
---
Roland's new video converters address the demand for high-quality, lossless video and audio converters for live/post production as well as installed systems. They include the Roland VC-1-HS (HDMI to SDI),VC-1-SH (SDI to HDMI), and VC-1-DL (Bi-directional SDI/HDMI with audio/video delay and frame sync).
The VC-1 Video Converter series provides uncompromising picture quality by maintaining the video characteristics of the original signal with rich-blacks and super-whites. There are no interlacing artefacts or other conversion or signal errors sometimes found with other video converters. The VC-1 series also features an on-board re-clocker to compensate for attenuation of SDI signals carried over long distances. The VC-1 series also supports both level A and B 3G-SDI, letting you connect a variety of higher quality SDI sources.
The VC-1 series is HDCP compliant allowing you to convert or pass-through HDCP signals with the exception of any SDI output. The VC-1-DL additionally enables the HDCP signal to be delayed. Selectable audio embedding and de-embedding lets you route different audio sources to or from video devices. Digital AES/EBU input and output signals are supporting ensuring high-quality audio signals can be maintained through the signal flow.
FEATURES:
HDMI to SDI conversion
Lossless image conversion
3G (level A&B)/HD/SD/SDI
HDCP support
VC-1 RCS, PC/Mac control application
Selectable channel for embedded/De-embedded audio
No interlacing artifacts or other conversion or signal errors
On-board re-clocker to compensate for attenuation of SDI signals
Connect a variety of higher quality SDI sources
SPECIFICATION:
Input
HDMI: Type A (19 pins ) x 1
Analog Audio Connector: 1/4" TRS phone type ( balanced ) x 1 pair (L/R)
Digital Audio Connector: 1/4" TRS phone type ( balanced ) x 1 ( Combined use with Analog Audio R ch Connector )
Processing
Audio embedding Audio de-embedding
Output
SDI Connector: BNC type x 2
HDMI Connector: Type A (19 pins ) x 1 (Thru/Out )
Analog Audio Connector: 1/4" TRS phone type ( balanced ) x 1 pair (L/R)
Digital Audio Connector: 1/4" TRS phone type ( balanced) x 1 ( Combined use with Analog Audio R ch Connector )
Input/Output Format
SDI Input Signal Standards: SMPTE 424M(SMPTE 425M-AB), SMPTE 292M, SMPTE 259M-C
SDI Input Video Format:

1920x1080/60p/59.94p/50p/30p/29.97p/25p/24p/23.98p/60i/59.94i/50i (Conforms to SMPTE 274M ),
1280x720/60p/59.94p/50p/30p/29.97p/25p (Conforms to SMPTE 296M ),
720x487/59.94i, 720x576/50i (Conforms to ITU-R BT.601-5 )

Audio Format: Linear PCM, 24 bits, 48 kHz, 16 ch (Conforms to SMPTE 299M, SMPTE 272M-C)
HDMI Input Video Format: 1920x1080/60p/59.94p/50p/30p/29.97p/25p/24p/23.98p/60i/59.94i/50i, 1280x720/60p/59.94p/50p/30p/29.97p/25p, 720x480/59.94i, 720x576/50i (Conforms to CEA-861-E)
HDMI Input Audio Format: Linear PCM, 24 bit, 48 kHz, 8 ch
SDI Output Signal Standards: SMPTE 424M (SMPTE 425M-AB), SMPTE 292M, SMPTE 259M-C
SDI Output Video Format:

1920x1080/60p/59.94p/50p/30p/29.97p/25p/24p/23.98p/60i/59.94i/50i (Conforms to SMPTE 274M )
1280x720/60p/59.94p/50p/30p/29.97p/25p (Conforms to SMPTE 296M),
720x487/59.94i, 720x576/50i (Conforms to ITU-R BT.601-5 )

SDI Output Audio Format: Linear PCM, 24 bits, 48 kHz, 16 ch (Conforms to SMPTE 299M, SMPTE 272M-C)
HDMI Output Video Format:

1920x1080/60p/59.94p/50p/30p/29.97p/25p/24p/23.98p/60i/59.94i/50i, 1280x720/60p/59.94p/50p/30p/29.97p/25p, 720x480/59.94i, 720x576/50i (Conforms to CEA-861-E)

HDMI Output Audio Format: Linear PCM, 24 bit, 48 kHz, 8 ch
Audio Input/Output
Analog Audio Input Level: +4dBu
Analog Audio Maximum Input Level: +24dBu
Analog Audio Input Impedance: 110 ohms
Analog Audio Output Level: +4dBu
Analog Audio Output Impedance: 600 ohms
Digital Audio Output Signal Format: AES3, 16/24 bits, 32/48 kHz, 2 ch
Digital Audio Output Impedance: 110 ohms
General
USB Connector: USB Type B (Hi-Speed USB) x 1
Power Supply: DC 9V
Power Consumption: 8W
Operation Temperature: +0 to + 40 degrees Celsius
Physical & Dimensions
Width: 150mm
Depth: 130mm
Height: 30mm
Weight: 500g
Manufacturer: Roland
---
We Also Recommend