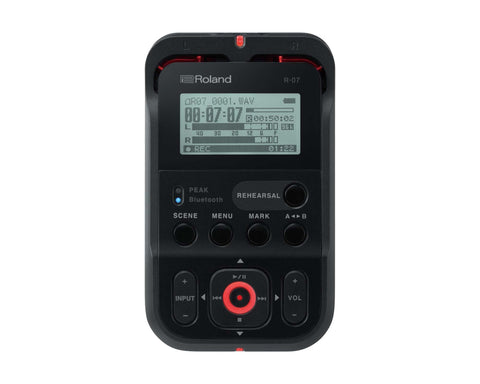 Roland R-07 Black
R-07 BK
Usually shipped within 2-3 working days
---
---
The Roland R-07 High Resolution Handheld Digital Audio Recorder in black packs mission-critical recording features into a stylish and ultra-portable device that goes anywhere life takes you.
High-resolution audio, one-touch Scene memory, and Hybrid Limiting ensure great sounding recordings no matter what the situation.
With wireless listening and remote control mean you can record with less wires in more places.
Features:
R07 Handheld High Resolution Audio Recorder
One-touch Scene memory
High-resolution audio
Hybrid Limiting ensure great sounding recordings
Wireless listening and remote control
Black finish 
Specifications:
Recorder Part
Tracks

2 (stereo)
4 (stereo x2) * WAV x 2 recording mode only

Signal Processing: AD/DA conversion: 24 bits, 44.1/48/88.2/96 kHz
Data Type: For Recording (Stereo only)
WAVE:

Sampling Rate: 44.1/48/88.2/96 kHz
Bit Depth: 16/24 bits

MP3 (MPEG-1 Audio Layer 3):

Sampling Rate: 44.1/48 kHz
Bit Rates: 64/96/128/160/192/224/320 kbps

WAVE + MP3:

Sampling Rate: 44.1/48 kHz
Bit Depth: 16 bits
Bit Rates: 128 kbps

WAVE x 2:

Sampling Rate: 44.1/48 kHz
Bit Depth: 16/24 bits

For Playback 
WAVE:

Sampling Rate: 32/44.1/48/88.2/96 kHz
Bit Depth: 16/24 bits

MP3 (MPEG-1 Audio Layer 3):

Sampling Rate: 32/44.1/48 kHz
Bit Rates: 32--320 kbps or VBR (Variable Bit Rate)

Memory card:  microSD Card/SDHC format compatible
Input/Output
Audio Inputs: Internal Stereo Microphone MIC/AUX IN (Stereo miniature phone type, plug-in powered mic) *The Internal Mic and the MIC/AUX IN can't be used at the same time; only the MIC/AUX IN is effective.
Audio Output: Phones (Stereo miniature phone type) Internal Speaker for playback (monaural) *The Internal Speaker and the Phones can't be used at the same time; only the Phones is effective.
Nominal Input Level (Variable): MIC/AUX IN: -31 dBu (Default input level) * 0 dBu = 0.775 Vrms
Input Impedance: MIC/AUX IN: 4.5 k ohms
Output Level: 3 mW + 3 mW (In case 16 ohms load)
Recommended Load Impedance: 16 ohms or greater
Frequency Response: 20 Hz – 40 kHz (+-3 dB)
USB Interface: USB port: USB Micro-B type support USB 2.0/1.1 mass storage device class
Bluetooth
R-07 Remote: Bluetooth technology: Bluetooth Ver 4.0
Audio transmission: Bluetooth technology: Bluetooth Ver 3.0
Transmitting Power: Specification Power Class 2 (Line of sight range 10 m (30 ft))
Profile Support: A2DP, AVRCP
CODEC Support: SBC, Qualcomm aptX Qualcomm aptX low latency
Effects
Effects: Playback only. Excludes playback in 88.2 kHz or 96 kHz. Reverb and Speed Change can't be used at the same time.
Reverb: 4 types (Hall1, Hall2, Room, Plate)
Speed Change: 50 – 150 % of playback speed
Other
Display: Graphic LCD 128 x 64 dots (white backlit)
Current Draw: 350 mA (MAX)
Power Supply: Alkaline battery (AA, LR6) x 2, or Rechargeable Ni-MH battery (AA, HR6) x 2, or Supplied from the computer via USB
Physical & Dimensions
Height: 26mm
Width: 61mm
Depth: 103mm
Weight: 150g
Finish: Black
Manufacturer: Roland
---
We Also Recommend