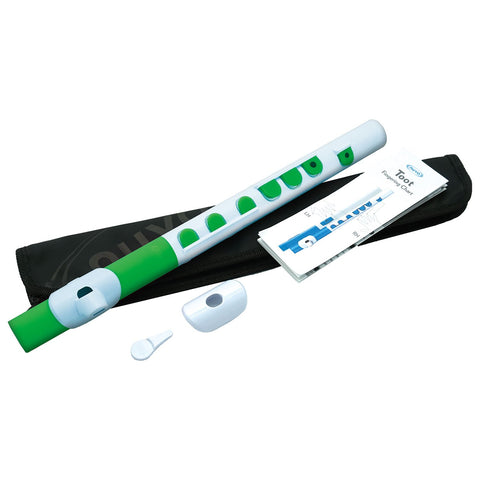 Nuvo Toot White Green Trim
N430TWGN
Usually shipped within 2-3 working days
---
---
The Nuvo TooT in white with green trim supplied with bag (2018 model with covered tone holes) bridge instrument, ideally suited to young musicians who are looking to take the next musical step towards the flute.
Similar in nature to the fife, Nuvo TooT has a slightly wider bore which allows the instrument to be a little shorter and brings the tone holes closer to the body - great for shorter arms! The new updated TooT now also has silicone key flaps with inserts which cover the holes needed for chromatic playing, these inserts can be removed once the student is ready for these notes. 
Nuvo's TooT comes supplied with the FirstNote lip plate, a recorder-style fipple mouthpiece attachment to allow students to begin developing correct posture and fingerings while they learn the first basic melodies. When the player is ready, the FirstNote lip plate can be replaced with the traditional lip plate. A smart carry case complete with fingering chart is also included with the product. 
Completely waterproof, these instruments are incredibly easy to clean and assist young players in picking up hygienic habits which will stay with them. The TooT adds a new musical texture to primary level ensembles; an instrument that supports the young beginner, and affords the possibility to start learning on a "real" instrument very early on.
Features:
2018 model with covered tone holes
Pitched in C (concert pitch)
100% waterproof
Lightweight polymer construction with rubberised head joint
Straight head joint
FirstNote lip plate allows easy note production from the start
Supplied with FirstNote and standard lip plates, TooT fingering chart and case
Weight: 150g
Manufacturer: Nuvo
---
We Also Recommend