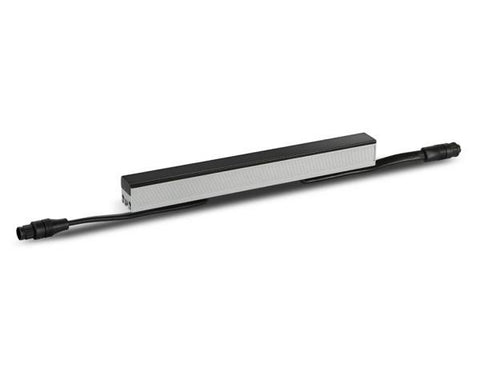 Martin Exterior PixLine 40 RGB 310mm
90356775/ MAR1072
Usually shipped within 2-3 working days
---
---
The Martin Exterior PixLine 40 310mm is a linear LED video fixture for media facades and creative installations.
This Exterior PixLine 40 can be combined with a wide variety of lenses and diffusers for the right look for every application.
The Exterior PixLine 40 is driven by the Martin P3 System Controller family for easy setup and video display, and it is also backwards compatible with DMX.
FEATURES:
40 mm pixel pitch
62 cd per meter calibrated
40 lumen per foot calibrated
High-quality 16-bit per colour image processing technology
Pixel-level brightness and colour calibration for optimal image quality
P3/DMX controllable (automatic protocol detection)
Intuitive mapping and addressing via P3 System Controller
Combined power/data input (single cable for power and data input)
Supported by integrated power and data processor (P3 PowerPort 1500 or P3 PowerPort 1000 IP) and simple cabling system
SPECIFICATION:
General
Control and Programming

Control options: Martin P3™ System Controller via Martin P3™ PowerPort 1500 / Martin P3™ PowerPort 1000 IP, and/or DMX
Protocol detection: Automatic
Control modes: RGB, basic, segment and pixel-level
Setting and addressing: Martin P3™ System Controller or RDM-compliant controller
Control resolution: 16-bit (P3) or 8-bit (DMX) control of each colour
Colour and intensity calibration: Pixel-level
DMX compliance: USITT DMX512-A RDM compliance: ANSI/ESTA E1.20
Firmware update: Via Martin P3™ System Controller
DMX channels: 3/10/13/31/31/103

Control/User Interface

Device status: Multi-colour visual indication
Device test and reset: Magnetic push button to call up local test patterns and reset device

Optics

Type: Clear Front
Minimum LED lifetime: 50 000 hours (to >70% luminous output)*
*Figure obtained under manufacturer's test conditions
Photometric Data

Colour resolution: 16 bits per colour (48 bit per pixel)
Viewing angle: 120° x 120°
Pixels per meter: 25
Pitch (pixel centre-to-centre): 40.00 mm
Luminous intensity, calibrated mode: 62 cd per meter*
Total output, calibrated mode: 187 lumens per meter*
Total output, calibrated mode: 2 083 nits (modules spaced 30 mm centre-to-centre)*
*Preliminary data, figures are approximate
Video Processing

Brightness control
Gamma correction and control
Colour temperature control
Colour space control
Calibration processing
Synchronisation

Signal Protocol

P3 (via Martin P3™ PowerPort) or DMX

Construction

Base: Extruded aluminium profile
Colour: Clear anodised
Protection rating: IP66
Impact resistance: IK05
RoHS compliant

Installation

Orientation: Any
Mounting: Slot for locking nuts on back of profile (M6) and/or installation mounting profile

Connections

Power and data input: 6-pin custom (BBD) IP66-rated
Power and data thru: 6-pin custom (BBD) IP66-rated
Hot plugging compatible

Electrical

Nominal input voltage: 48 VDC +/- 4%
Power supply options: Martin P3™ PowerPort 1500, Martin P3™ PowerPort 1000 IP or generic 48 VDC PSU
Max. total power consumption: 8.5 W per meter (at max. intensity, full white)

Thermal

Cooling: Convection
Maximum ambient temperature (Ta max.): 55° C (131° F)
Minimum ambient temperature (Ta min.): -20° C (-4° F)
Total heat dissipation (calculated, +/- 10%): 30 BTU/hr per meter
Physical & Dimensions
Length: 310mm
Width: 27mm
Height: 32mm
Weight: 0.4kg
Manufacturer: Martin Professional
---
We Also Recommend