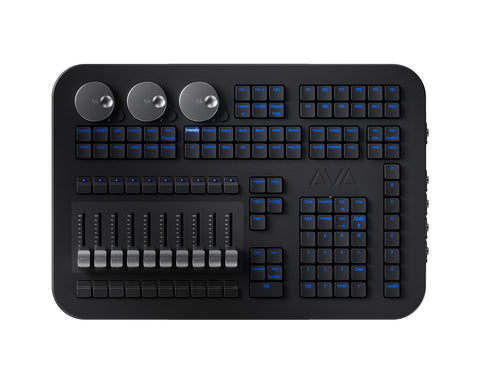 Avolites T3
30-01-9803
Usually shipped within 2-3 working days
---
---
Avolites T3 combines a user centred design approach, with high quality materials and components, reliability, comfort and ease of use. It is the ultimate tool for every visual designer who is constantly on the move. 
Designed to take demanding shows anywhere, Avolites T3 and the optional Avolites T3–Wing companion form an unbeatable portable control surface.
The T3 combines the full power of our proprietary Titan software. With a compact, lightweight design that easily connects to your laptop to produce a fully featured moving lights control system. The key difference of the new T3 is not just the visual change, taking cues from the Diamond 9 flagship console. But also, the button layout, so there is less adjustment required for your muscle memory when using other Avolites consoles.
FEATURES:
10 Playback faders
12 Macro/Executor buttons
20 C&K flash buttons with custom cap
3 x Optical encoder wheels
Robust aluminium & steel construction
Durable reverse printed laminate on high wear area
96 low profile Cherry backlit keys
9 New Titan keys to match D9 layout
AVOKey factory fitted
Screw lockable USB–C cable
Low profile 50mm/2inch
SPECIFICATION:
Software
Software Platform:  Avolites Titan PC Suite
Base OS:  Microsoft Windows 10 Upwards
3D Visualisation:  Capture Engine Built-in
Output Formats:  Art-Net, s-ACN or DMX512
Universes: Up to 16 DMX universes ( Art-Net and s-ACN) from host, PC hardware dependent.

 

Upgrades to 32 or 64 universes (Contact us

 

for more information)
External Control:  Web API, MIDI, DMX, s-ACN
Playback Control:  USer defined using multiple faders, encoders & buttons
DMX Channels Per Device:  8,192
DMX Channels Per System:  Up to 32,768
Main Features:  Timeline, cue lists with tracking sheet, capture visualisation, pixel mapping, keyframe effects, synergy with prism and AI
Hardware
Unit Dimensions (W x D x H):  402 x 270 x 50mm
Weight:

3.0kg / 6.6 lbs
3.7 kg / 8.2 lbs (inc. case)

Connection:  Crew Lockable USB-C
Power Consumption:  USB 3.1, up to 900mA
Operating Environment:  Ambient Temp 0-40C / 32-104F. Max humidity 95% relative non-condensing
Connectivity
Ports:

DMX 512: 4 X 5-PIinXLR, galvanic & optically isolated
DMX port can be configured as input (requires connector type change cable)
Up to 16 ethernet DMX universes (Art-Net and s-ACN) from host computer
3–PIN XLR SMPTE LTC input
USB-C compatible with USB 3.1

Peripherals:

USB MIDI support through host computer
Titan supports up to two touchscreens connected to host computer
Expand control surface with optional fader wing
PC Specification
Processor (Minimum):

Intel i5 2GHz
AMD Ryzen 5 3600XT
Benchmark Scores - 6000

System RAM (Minimum):  16GB
GPU:  Passmark 2000 or greater, support for direct x 11.1
Processor (Required with 32 universe):

Intel i7 2.5GHz
Benchmark Score - 14000

System RAM (Required with 32 universes):  32GB
Storage:  SSD 256GB + 20% Space Free
OS:

Microsoft Window 10 Upwards
Control over firewall and virus scanning software settings
Manufacturer: Avolites 
---
We Also Recommend