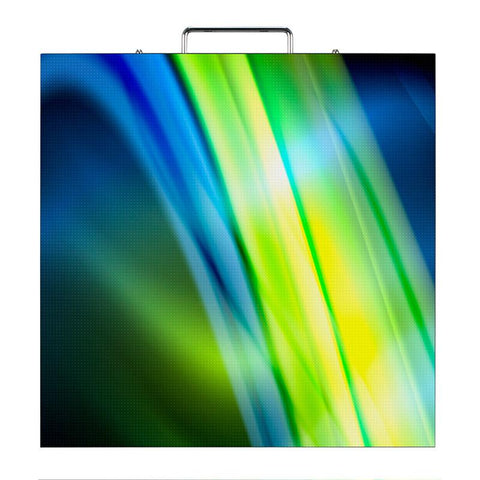 ADJ VS3 Vision Series Video Panel
1226300151
Usually shipped within 2-3 working days
---
---
The ADJ VS3 is a high-resolution video panel with a pixel pitch of 3.91mm with a configuration of a 3-in-1 RGB SMD2121 LED, and a brightness of 1000 NITS.
There are 4 LED modules per panel. This allows for easy serviceability. The VS3 connections include PowerLock In/Out and DataLock In/Out. Each panel features the Novastar A5s receiving card built-in.
Up to 8 VS3 video panels fit inside the VSFC8 flight case. Hang up to 20 VS Series Video Panels vertically with the VSRB1 rigging bar.
FEATURES:
Corner Protectors to protect the corners of the VS3 during transport, set-up and teardown

Front and rear serviceable: 4 easy to replace video modules on each panel
Magnets on top/bottom to temporarily connect panels before latching together allowing a single user to install an entire wall
SPECIFICATION:
Pixel Pitch: 3.91mm (0.15")
LED Configuration: 3-in-1 SMD2121 LED
Pixel Density: 128x128; 65536 per square meter 
Size :19.68" x 19.68" x 2.75" / 500 x 500 x 69.6mm
Module Quantity: 4
Weight: 17 lbs. / 7.7kg
MECHANICAL RATINGS:
Surface Flatness: Gaps<0.5mm
OPTICAL RATINGS:
Brightness: 1000 NITS
View Angle: Horizontal 160°/Vertical 140° @ 9.75 ft. (3m)
Gray Scale: ≥14-bit
Display Colour: 256
Brightness Adjustment: 0~100% 100 Levels
Contrast ratio: 5000:1
Processing: 14-bit
POWER SUPPLY:
Operation Power: 100~240V 50-60Hz
Max. Power Consumption: 170W/per panel
Ave. Power Consumption: 68W/per panel
Connections Power/Data: Power-PowerLock In/Out; DataLock In/Out
CONTROL SYSTEM:
Control Mode: Nova Star Synchronous System with Control via DVI
Frame Update Frequency: 50-75Hz
Scan Mode: 1/16
Refresh Rate: 3840Hz
Support Input: Composite, S-Video, Component, VGA, DVI, HDMI, HD_SDI
Control Distance: Ethernet Cable <120m or Fiber Optic>120m
Support VGA Mode: 1024 x 768, 1280 x 1024, 1600 x 1200, 1920 x 1280
Brightness Correction: Pixel, Module, Cabinet
ENVIRONMENTAL:
Operating Temp / Humidity: Fahrenheit: -4° + 104° / Celsius: -20° + 40°/ 10-90% (No Condensation)
Operating Life / MTBF: 50,000 Hours / 5,000 Hours
Protection Level: IP20 (Front and Back)
Out of Control Rate: <0.02%
Listings: cETLus (Pending)
OPTIONAL ACCESSORIES:
VSFC8 (VS8100): Flight Case – Fits 8 VS Series Video Panels
VSRB1 (VS1100): Rigging Bar – Hang up to 20 VS Series Video Panels vertically
VSMRT (VSM111): Module Removal tool - Magnetically assists the tech in removing modules from the front side when servicing.
VSRQR (VSM210): Quick Rig - Attaches and locks on to the rear of any Vision series panel so it can be fastened to a 2" pipe or truss
VS1RSB (VS1126) Rear Support Bracket for VS Series Panels
Novastar VX4S: Video Processor
Novastar MCTRL-300: Video Processor
Novastar Nova Pro HD: Video Processor
Arkaos Media Master: Video Software
Arkaos GrandVJ 2.0: Video Software
CABLES:
Cabinet to Cabinet Data Link Cables (Ethernet Locking Connectors)
Power Locking Link Cables
Power Locking Main Power Cables
Manufacturer: ADJ

---
We Also Recommend