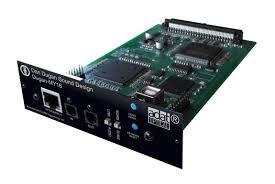 Yamaha Dugan MY16
DUGAN-MY16
Usually shipped within 2-3 working days
---
---
The Dugan MY16 is a 16-channel automatic mixing controller that plugs into a slot on Yamaha consoles.
Sound engineers can now manage multiple live mics without continually riding individual faders.
The Dugan-MY16 automatically detects the active mics and makes fast, transparent cross-fades without the distracting sonic artefacts common to noise gates. It tracks unscripted dialogue perfectly and maintains consistent system gain for up to 16 open mics.
With the Dugan-MY16, cueing mistakes and late fade-ups are a thing of the past. 
FEATURES:
16 channel Dugan auto mixing card for digital mixers and DME
Manage multiple live mics without continually riding individual faders
Automatically detect active mics
Make fast, transparent cross-fades
No distracting sonic artifacts common to noise gates
Maintain consistent system gain for up to 16 open mics
SPECIFICATION:
General
Operating Mode; Standard: 16 channels of Dugan mixing at 44.1 or 48kHz, ADAT connectors link multiple Dugan units
Operating Mode; High-rate: 8 channels of Dugan mixing at 88.2 or 96kHz sample rate, ADAT connectors link multiple Dugan units
Operating Mode; Shared: 8 channels of Dugan mixing and 8 channels of general purpose ADAT I/O
Digital I/O: ADAT optical, 24 bit, 44.2/48kHz (Shared mode only)
Gain: Unity
Audio Latency: 0.2ms
Optical Linking: Up to 8 units may be linked in a ring; links with Models D-2, D-3 , E, E-1 and Dugan-MY16
Connectors: 10/100 BASE T: RJ-45, Linking and Digital I/O: ADAT optical
Recommended Yamaha Mixers: PM5D/MP5DRH, DSP5D, M7CL, LS9, DM2000, DM1000, 02R96, 01V96, DME64N, DME24N
Physical & Dimensions
Dimensions: H=4.0cm (1.57"), W=12cm (4.72"), D=17.6cm (6.91")
Weight: 160g (5.6oz), 0.6kg (1lb 5oz) in shipping box
Manufacturer: Yamaha
---
We Also Recommend