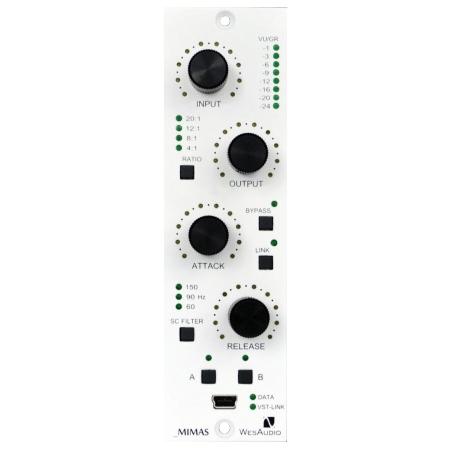 WesAudio Mimas - NG500
MIMAS - NG500
Usually shipped within 2-3 working days
---
---
The WesAudio Mimas NG500 500 Series digitally-controlled compressor module combines analogue hardware gear with digital control.
With a pure analogue signal path, you won't have to compromise the sound, on the other hand, all usability features that every digital plugin has nowadays, will help to you improve your way of working.
Thanks to proprietary GCon protocol which allows to communicate hardware with your DAW it's fast and easy to use. 
Features:
World class compressor sound
GCon - innovative High-speed USB/Ethernet protocol
Fully digitally controlled analog circuit
Fully balanced in/out by Carnhill transformers
USB computer connection
VST3/AAX (MAC/PC) control plugin
Integrated hardware A/B function
Digital sidechain from DAW to compressor
4 high-resolution touch sensitive encoders allow to record automation of all parameters to DAW in real time
Selectable Side-chain high-pass filter
All-button mode
True bypass
Additional backplate connector for future use in a larger system
Selectable VU(in/out)/GR meter
+24dBu of headroom
Info about the NG500 Connector:
In addition to the standard 500 series connector, the module features an extra "NG500 connector". It is designed for use with the Wes Audio TITAN chassis, to carry the Gcon information without the need for additional USB cables connected to the module. Modules with the NG500 connector can be used with almost all standard 500 series racks.
Modules with NG500 do not work with the following racks:
Rupert Neve R6
Rupert Neve R10
Aphex USB 500 Rack
Some older BAE racks (not produced anymore)
If you have an incompatible rack, you can request your module without the NG500 connector
Specifications:
Attack time: 20us - 800us
Release time: 50ms - 1100ms
Compression ratio: 4:1; 8:1; 12:1; 20:1; all button mode
True Bypass
SC High Pass filter - 60,90,150Hz
Output impedance: 600ohm
Freq. response: 20Hz do 20kHz (+/- 1dB)
Signal to noise ratio SNR: >83dB
Power consumption: 3W 
Manufacturer: WesAudio
---
We Also Recommend