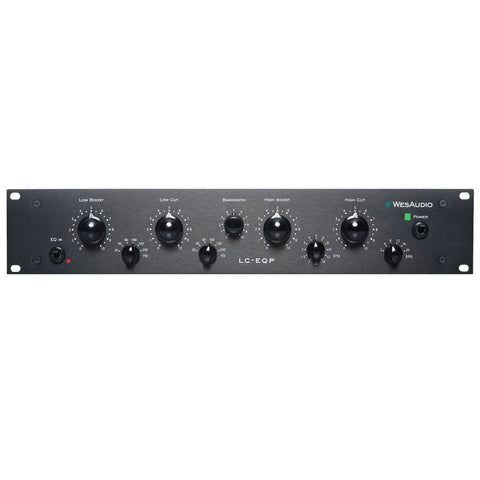 WesAudio LC-EQP
LC-EQP
Usually shipped within 2-3 working days
---
---
WesAudio LC-EQP single channel passive equaliser input system is based on a Carnhill linear transformer which matching input impedance.
The input impedance is > 1.5 kohm which Is higher than in similar class devices and as a result, the equaliser does not load the signal source, by which it is controlled. 
It's sound can be described as clean and clear with a tube nature, ideal equaliser on both, single tracks and the sum.
Handles well controlling other studio devices thanks to low output impedance.
Designed as a universal musical equaliser to use in professional recording studios.
Specifications :
Gain: 0dB (+/- 0.5dB)
Input impedance: >1.5kohm
Output impedance: 150ohm
Max. output level: +22dBu (0.8% THD)
Frequency response: 5Hz – 65kHz (-3dB)
SNR ratio: 90dB
Low Boost: max +18dB
Low Cut: max -18dB
High Boost: max +20dB
High Cut: max -18dB
Low Boost: 20, 30, 60, 100, 120, 250 Hz
Low Cut: 20, 30, 60, 100, 120, 250 Hz
High Boost: 1, 1.5, 2, 3, 4, 5, 6, 8, 10, 12, 16, 20 kHz
High Cut: 2, 4, 6, 12, 16, 20 kHz
AC mains: 115(60Hz) / 230V(50Hz)
Transformer balanced output and input (XLR Neutrik)
Case Rack 2U
Dimensions : 88 x 483 x 237 mm
Weight: 7 kg
Manufacturer: WesAudio
---
We Also Recommend