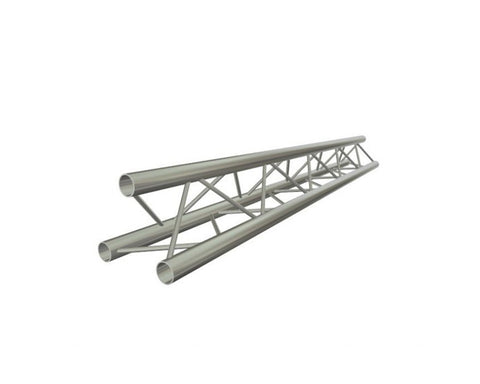 Trilite 2 TR 2000 Truss Length 2M
2 TR 2000
Usually shipped within 2-3 working days
---
---
OPTI Trilite 200 is the original aluminium truss system. OPTI Trilite 200 is a highly versatile, strong 2 inch aluminium tube truss system used in exhibition halls all over the world. OPTI Trilite 200 is perfect for all types of temporary or permanent structures inside or out.

OPTI Trilite 200 is produced in three formats Ladder (2 main tubes), Triangular (3 main tubes) and Quad (4 main tubes).

OPTI Trilite 200 has ten triangular straight lengths ranging from 0.4m to 8.0m. Non-standard triangular straight lengths of OPTI Trilite 200 can be produced and are priced to the next full metre in length. Any special length of OPTI Trilite 200 less than 1m is priced as 1m.

All triangular straight lengths and curved sections of OPTI Trilite 200 are supplied with connecting spigots for one end.
Features
Trilite 200, 2m, Straight Triangular Truss Length
Highly versatile, strong 2 inch aluminium tube truss system
Used in exhibition halls all over the world
Perfect for all types of temporary or permanent structures inside or out
Gives you the professional image you need
Supplied with connecting spigots for one end
Manufacturer: Trilite 
---
We Also Recommend