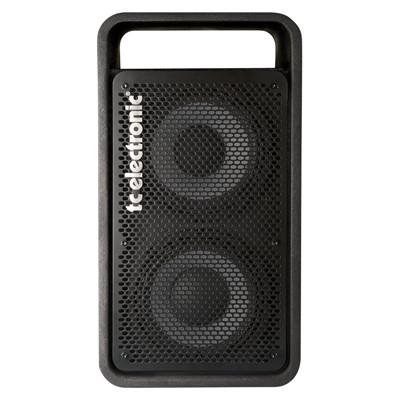 TC Electronic RS210C Combo Cabinet
TC052
Usually shipped within 2-3 working days
---
---
The RS210C cabinet features the same 2 x 10" + 1" Eminence driver configuration found in the award-winning RS210 cabinet.
Additionally, its open amp design allows for you to choose between any of the three compact TC Electronic amp heads: RH750 RH450 or Staccato'51.
The amp of your choice simply slides into the amp slot and is secured by a single screw in a matter of seconds. TC were not interested in doing a combo that limits you, so TC decided on an innovative solution where you can just swap heads as you see fit. 
Also, you can detach the trolley in seconds if you want to, no need for any tools whatsoever. You can leave the trolley on during gigs, but sometimes you may experience a slight rattle that's why TC made it dead easy to take it off.
This combo is super roadworthy and features 18MM hard wearing plywood, super stackability and a breakout speaker connection to drive up to 2 additional TC cabinets.
FEATURES:
Fully customizable with any RH head
Pull-up Handle and Wheels
Roadworthy Construction
SPECIFICATION:
Colour: Black
Weight (kg): 24
Manufacturer: TC Electronic
---
We Also Recommend