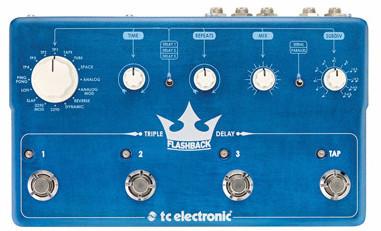 TC Electronic Flashback Triple Delay
TC016
Usually shipped within 2-3 working days
---
---
With the Flashback Triple Delay you can go as crazy as your imagination allows and with the added function of running the delays in series or in parallel, you can go from lush divine delays to otherworldly soundscapes in an instant!
Up to 3 delays running at the same time. Time and space have never been easier to manipulate. As if having three high quality delays running at the same time isn't enough, TC also added a dedicated subdivision knob that lets you assign different rhythmic patterns to each delay. You'll get everything from dotted eighths to triplets and on to several types of dual delays.
So whether you're going for a smooth rhythmic-roll or a full-on psychedelic-trip, Flashback Triple Delay is sure to deliver! Flashback Triple Delay is the only delay pedal that lets you run several custom-tuned delay sounds at once.
Imagine running delay TonePrints from Steve Morse, Guthrie Govan and John Petrucci all at the same time; the result is spectacular! Add to that the option of creating your very own delay tones via the free TonePrint Editor and you've got yourself one of the most versatile delay pedals ever made.
FEATURES:
Three independent delay engines with 11 different subdivisions
Toggle between having your delays in series or in parallel
TonePrint® enabled
Tap Tempo and 16 Delay Types
MIDI enabled
Mini USB connector for uploading and editing custom TonePrints and for software update
True Bypass (optional buffered) / Analogue-Dry-Through
SPECIFICATION:
Depth (mm): 145
Height (mm): 57
Width (mm): 145
Net weight (kg): 1.55
Colour: Blue
Input Impedance: 1M ohm
Inputs: 2 Standard ¼ jacks mono/TS with automatic mono/stereo sensing
Output Impedance: 100 ohm
Power Supply: 9 V DC, centre negative >300 mA (power supply included)
Manufacturer: TC Electronic
---
We Also Recommend