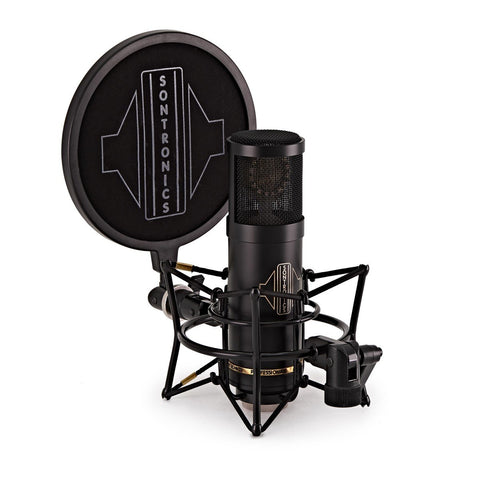 Sontronics STC-20 Pack
STC20PACK
Usually shipped within 2-3 working days
---
---
The Sontronics STC-20 PACK is an all-in-one microphone package that allows you to achieve the same quality recordings as you'd expect to hear in a professional studio, even for those musicians on the tightest of budgets.
With a fixed cardioid pattern, the large-diaphragm STC-20 microphone will give impressive results on a wide range of sources, including male and female vocals, acoustic guitar and other plucked instruments. As well as; guitar amp, percussion, drumkit, piano and other acoustic instruments.
There has also been feedback from many users with great success for spoken word, so this is also an ideal microphone for voiceover, podcast and broadcast work.
Despite its incredible affordability, the Sontronics STC-20 delivers brilliant results on whatever you use it for, whether you're just starting out with a small bedroom set-up or looking for a reliable workhorse to use around the studio on a variety of sources.
The STC-20 Pack is also a best-selling microphone into education, where its ease-of-use and characteristic clean, realistic sound ensure that your recording will sit neatly in the mix every time.
Designed to be an affordable entry point into the Sontronics range, the STC-20 microphone gives you the same characteristic smooth rolloff in the high frequencies as found in all our condenser mics, and when compared to other mics in the same price range, you truly won't believe your ears.
If you feel you need some more flexibility in terms of pad and filter controls, check out the Sontronics STC-2 microphone (on which the STC-20 is based), which has pad and filter controls, plus shockmount and flightcase. For even more versatility, the STC-3X Pack comes with the same accessories as the STC-20 Pack and offers three polar patterns: cardioid, omni and figure-of-eight.
FEATURES:
Large-diaphragm condenser mic
Fixed cardioid pattern
Fantastic for vocals, acoustic guitar, piano, guitar amps, drums, podcast and other acoustic instruments
Comes with shockmount, popshield, mic pouch and 5m XLR cable
Covered by lifetime warranty

SPECIFICATION:
Colour: Black/Gold
Polar pattern: Cardioid
Frequency response: 20Hz - 20kHz
Sensitivity: 16mV/Pa -36dB ±1.5dB
(0dB = 1V/Pa @ 1,000Hz)
Impedance: ≤200 Ohms
Equivalent noise level: 18dB 
(A-weighted)
Max SPL (for 0.5% THD @ 1kHz): 125dB
Power: Phantom power 48V required
Connector: 3-pin XLR
Dimensions: 194 x 53 x 53mm
Weight: 610g (810g with shockmount)
Comes with: shockmount, 2 spare elastics, nylon-mesh popshield, zip-up microphone pouch, 5m XLR cable
Manufacturer: Sontronics
---
We Also Recommend