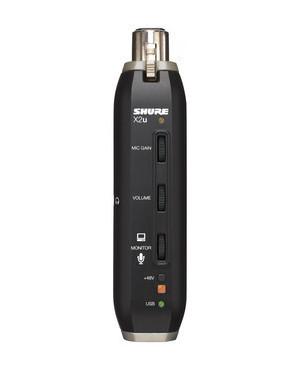 Shure X2U XLR To USB Signal Adapter
X2U
Usually shipped within 2-3 working days
---
---
The X2U combined with any wired microphone can be easily connected directly to a computer without the need for any additional hardware.
This would make it ideal for home recording studios.
The X2U is compatible with Windows 7, 8 & 10 (32 & 64 bit), Vista (32 & 64 bit), XP, 2000 and Max OS X (10.1 or later). 
It features a built in headphone jack so that you can monitor the sound without the need for an additional sound card. It also includes an integrated pre-amp with mic gain control which allows you to control the signal strength.
The X2U does have phantom power so yes you can connect your condenser microphone straight into the computer
Latency can be described as the time taken between initiating a request in the computer and receiving the answer. You can expect zero latency monitoring with the X2U. Zero-latency monitoring means real-time playback and multi-tracking without delay and 16-bit/48 kHz sample rate provides better-than-CD-quality audio.
With Monitor Mix Control (which is featured on the X2U) you can blend the mic signal and audio playback as you desire.
Features:
USB Plug and Play connectivity
Compatible with Windows Vista, XP, 2000, 7, 8, 10 and Mac OS X (10.1 or later)
Integrated pre-amp with Microphone Gain Control allows control of input signal strength
Zero Latency Monitoring for real-time playback and multi-tracking without disorientation
Headphone jack with volume control for monitoring
Monitor Mix Control for blending microphone and playback audio
Provides +48V

phantom power

for use with

condenser microphones

Includes 3m USB cable and zippered pouch
Specifications:
Frequency Response

: 20 to 20,000 Hz +/- 1 dB
Power Requirements: USB-powered, 500 mA, maximum
Digital Noise Floor (20 Hz to 20 kHz, A-weighted)

Minimum MIC GAIN setting: −81 dB FS
Maximum MIC GAIN setting: −78 dB FS

Sampling Rate: up to 48 kHz
Bit Depth: 16 bit
Peak Signal Indicator (Tri-colour)

OFF: −30 dB FS
Green: −30 to −12 dB FS
Yellow: −12 to 0 dB FS
Red: >0 (digital converter clipped)

Adjustable Gain Range: 50 dB
Headphone Output: 3.5 mm (1/8 inch)
Manufacturer: Shure 
---
We Also Recommend