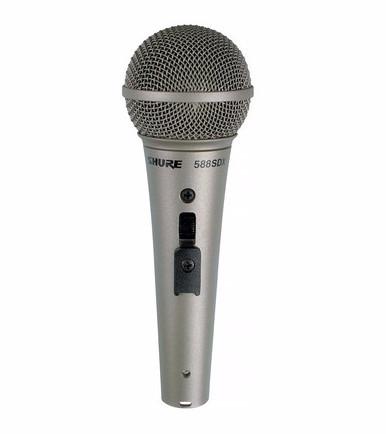 Shure 588SDX
588SDX
Usually shipped within 2-3 working days
---
---
The 588SDX is a ball-type, dual-impedance, cardioid (unidirectional) dynamic microphone that provides excellent voice reproduction.
Its spherical grille is a very effective wind and pop filter which is especially good when used for closeup vocal miking.
This microphone is highly suited for speech or music pickup in schools, churches, and meeting rooms. Its unidirectional polar pattern greatly reduces feedback problems, permitting operation closer than usual to loudspeakers without the annoying squeal or howl caused by feedback.
The microphone is equipped with a lockable ON/OFF switch and an internal impedance selection socket located on the XLR connector for switching between high and low impedance. A slip-in swivel adapter is supplied for the convenience of stand-mounted use.
Features:
Controlled low-frequency response combined with a smooth high-frequency rise for clear and intelligible voice pickup

Symmetrical cardioid pickup pattern minimises feedback

Spherical grille provides effective filtering out of breath noise and popping when used for closeup vocals, and of wind noise when used outdoors

Neodymium magnet for high signal-to-noise ratio

Shock-mounted cartridge for quiet operation and low stand/ handling noise

Lockable ON/OFF switch

Dual impedance selectable by internal socket

Break-resistant, slip-in swivel adapter for stand-mounted use

Three-pin professional audio (XLR) connector

Tough, steel-mesh grille resists wear from constant use and handling; die-cast handle

Field serviceable and backed by the Shure 2-year warranty
Specifications:
| | |
| --- | --- |
| Type | Dynamic (moving coil) |
| Frequency Response | 80 to 15,000 Hz |
| Polar Pattern | Cardioid (unidirectional) symmetrical about axis |
| lmpedance | LO Z: Microphone rated impedance is 150 ohms (270 ohms actual) for connection to microphone inputs rated low impedance; HI Z: Microphone impedance is "High" for connection to high-impedance microphone inputs |
Manufacturer: Shure
---
We Also Recommend