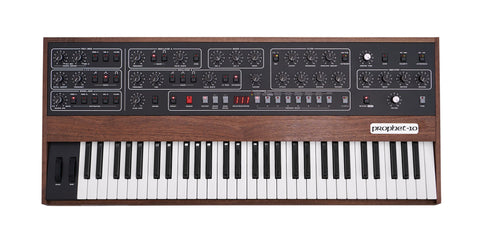 Sequential Prophet 10 Keyboard
SEQ-1010
Usually shipped within 2-3 working days
---
---
The Sequential Prophet 10 is Dave Smith's ten-voice version of the analog poly synth that changed the world.
It's "the best of all Prophets" as Dave puts it because it embodies all three revisions of the legendary Prophet-5 synth Rev1, Rev2, and Rev3 through the use of genuine Curtis analog VCOs and filters (as in the Rev3) as well as new 2140 low-pass filters designed by Dave Rossum, like the 2040 filters he designed in the original Rev1 and Rev2.
A Rev switch lets you choose between the two filter designs. It also adjusts the Filter Envelope's shape and response to match the original Prophet Rev 1/2 or Rev 3 respectively.
The result is as pure a renewal of an analog classic as you could wish for, with the authentic, muscular sound of the original and the roadworthiness of a state-of-the-art modern instrument.
SPECIFICATION:
OSCILLATORS:

Two authentic CEM 3340 VCOs per voice
Simultaneously selectable wave shapes. Oscillator A: sawtooth, pulse. Oscillator B: sawtooth, triangle, pulse.
Pulse width per oscillator
Hard sync: oscillator 1 syncs to oscillator 2
Low frequency mode (oscillator 2)
Keyboard tracking on/off (oscillator 2)

MIXER:

Oscillator 1 amount
Oscillator 2 amount
White noise amount

LOW-PASS FILTER:

Four-pole, resonant, low-pass filter per voice
Switchable between authentic versions of the Prophet-5 Rev1/2 filter and Prophet-5 Rev3 filter
Rev1/2 filter is a Dave Rossum-designed 2140, the modern counterpart of the original 2040 filter found in the Prophet-5 Rev1 and Rev2
Rev3 filter is a Doug Curtis-designed CEM 3320
Filter can be driven into self-oscillation with the Resonance control
Keyboard tracking: off, half, full

FILTER ENVELOPE:

Four-stage (ADSR) envelope generator
Velocity modulation of envelope amount

AMPLIFIER ENVELOPE:

Four-stage (ADSR) envelope generator
Velocity modulation of envelope amount

LOW FREQUENCY OSCILLATOR:

Three wave shapes: sawtooth, triangle, square. All waveshapes can be engaged simultaneously
Both Initial Amount and mod wheel control
Mod destinations: oscillator A frequency, oscillator B frequency, oscillator A and B pulse width, filter cutoff

POLY MOD:

Sources: filter envelope and oscillator B
Destinations: oscillator A frequency, oscillator A pulse width, filter cutoff

VINTAGE KNOB:

Recreates the characteristics of various Prophet-5 models by varying the behavior of oscillators, envelopes, amplifiers, and other parameters. Go from a very stable "4" — as in Prophet-5 Rev4, (the new version) — all the way to "1," as in Prophet-5 Rev1, the rarest and most temperamental of all Prophet-5s.

AFTERTOUCH:

Channel (mono) aftertouch
Destinations: filter cutoff frequency, LFO amount

PERFORMANCE CONTROLS:

Full-sized, semi-weighted, premium Fatar 5-octave keyboard with velocity and aftertouch
Mod wheel
Spring-loaded pitch wheel with selectable range per program (1 to 12 semitones up and down)
Polyphonic glide (portamento)
Unison (monophonic) mode with configurable voice count, from one to 10 voices and key modes
Preset switch: when off, the front panel is live; what you see is what you hear

PATCH MEMORY:

200 user and 200 factory programs in 5 banks of 40 programs each
Direct program access, including Prophet 5-style single-button access to the current set of 8 programs

IN/OUT:

Mono output (1 x 1/4" phone jack)
Headphone output (stereo, 1/4" phone jack)
MIDI in, out, and thru ports
USB for bidirectional MIDI communication
Control voltage in/out (1 x 1/4" phone jack) 0- +5V input/output signal. Configured for 1-volt-per-octave operation.
Gate in/out (1 x 1/4" phone jack). Accepts a 1.5 to 15-volt on/off signal to gate the envelopes of a single voice on the Prophet-5. Outputs a 15-volt on/off used to gate the envelopes of an external synth.
Low-pass filter cutoff expression pedal input
Volume expression pedal input
Sustain footswitch input

POWER:

IEC AC power inlet for internal power supply
Operates worldwide on voltages between 100 and 240 volts at 50 to 60 Hz; Prophet-10: 28 watts maximum power consumption

PHYSICAL SPECS:

Dimensions: (95.25 cm x 41.6 cm x 12.4 cm)
Weight: 14.06 kg
Manufacturer: Dave Smith
---
We Also Recommend