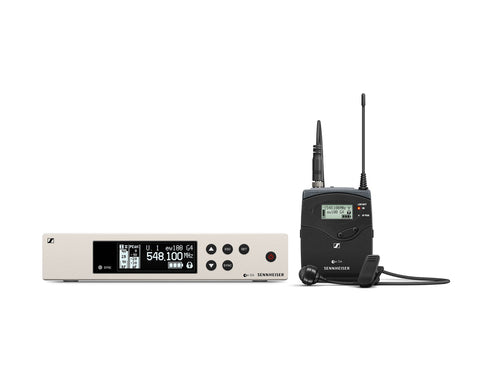 Sennheiser EW 100 G4-ME4-E Lavalier Set CH70
507515
Usually shipped within 2-3 working days
---
---
The Sennheiser EW100 G4-ME4-E Lapel System with ME4N Cardioid Microphone on channel 70 is a versatile wireless system.
With up to 42 MHz tuning bandwidth in a stable UHF range and fast, simultaneous setup of up to 12 linked systems.
The perfect choice for moderators and presenters: Robust bodypack transmitter and unobtrousive clip-on microphone ME 4 (cardioid) with high speech intelligibility for easy hands-free operation on any stage.
Features:
Engineered for professional live sound: Rugged all-in-one wireless system for presenters and moderators
Robust bodypack transmitter and unobtrusive clip-on microphone ME 4 (cardioid) with high speech intelligibility for daily use on stage
True diversity half-rack receiver in a full-metal housing with intuitive LCD display for full control
Easy and flexible wireless synchronisation between transmitter and receiver via infrared 
Fast frequency allocation for up to 12 receivers via new linking functionality
Up to 20 compatible channels 
Up to 42 MHz bandwidth with 1680 selectable frequencies, fully tunable in a stable UHF range 
Transmission Range: up to 100 meters / 300 feet 
High RF output power (up to 30 mW) depending on country regulations
Specifications:
EM 100 G4 - General
Modulation: Wideband FM
Frequency ranges

A1: 470 - 516 MHz
A: 516 - 558 MHz
AS: 520 - 558 MHz
G: 566 - 608 MHz
GB: 606 - 648 MHz
B: 626 - 668 MHz
C: 734 - 776 MHz
D: 780 - 822 MHz
E: 823 - 865 MHz
JB: 806 - 810 MHz
K+: 925 - 937.5 MHz
1G8: 1785 - 1800 MHz 

Receiving frequencies

Max. 1680 receiving frequencies, adjustable in 25  kHz steps
20 frequency banks, each with up to 12 factory-preset channels, no intermodulation
1 frequency bank with up to 12 programmable channels

Switching bandwidth: up to 42 MHz
Nominal/peak deviation: ±24 kHz / ±48 kHz
Receiver principle: True diversity 
Sensitivity (with HDX, peak deviation): < 2.5 μV for 52 dBA eff S/N
Adjacent channel selection: Typically ≥ 65 dB
Intermodulation attenuation: Typically ≥ 65 dB
Blocking: ≥ 70 dB
Squelch

low: 5 dBμV
middle: 15 dBμV
high: 25 dBμV 

Pilot tone squelch: Can be switched off 
Antenna inputs: 2 BNC sockets
Compander system: Sennheiser HDX 
EQ presets (switchable, act on line and monitor outputs)

Preset 1: Flat
Preset 2: Low Cut (-3 dB at 180 Hz)
Preset 3: Low Cut/High Boost (-3 dB at 180 Hz, +6 dB at 10 kHz)
Preset 4: High Boost (+6 dB at 10 kHz)

Signal-to-noise ratio (1 mV, peak deviation): ≥ 110 dBA
Total harmonic distortion (THD): ≤ 0.9 %
AF output voltage (at peak deviation, 1 kHz AF)
6.3 mm jack socket (unbalanced): +12 dBu
XLR socket (balanced): +18 dBu 
Setting range "AF Out": 48 dB (3 dB steps)
Temperature range -10 °C to +55 °C 
Power supply 12 V DC 
Current consumption 300 mA 
EM 100 G4 - Physical & Dimensions
Height: 43mmm
Width: 212mm
Depth: 190mm
Weight: 980g
SK 100 G4 - General
Modulation: Wideband FM
Frequency ranges

A1: 470 - 516 MHz
A: 516 - 558 MHz
AS: 520 - 558 MHz
G: 566 - 608 MHz
GB: 606 - 648 MHz
B: 626 - 668 MHz
C: 734 - 776 MHz
D: 780 - 822 MHz
E: 823 - 865 MHz
JB: 806 - 810 MHz
K+: 925 - 937.5 MHz
1G8: 1785 - 1800 MHz 

Transmission frequencies

Max. 1680 receiving frequencies, adjustable in 25  kHz steps
20 frequency banks, each with up to 12 factory-preset channels, no intermodulation
1 frequency bank with up to 12 programmable channels 

Switching bandwidth: up to 42 MHz
Nominal/peak deviation: ±24 kHz / ±48 kHz 
Frequency stability: ≤ ±15 ppm 
RF output power at 50 Ω: Max. 30 mW
Pilot tone squelch: Can be switched off
Compander system: Sennheiser HDX 
AF frequency response

Mic: 80 – 18,000 Hz
Line: 25 – 18,000 Hz 

Signal-to-noise ratio (1 mV, peak deviation): ≥ 110 dBA
Total harmonic distortion (THD): ≤ 0.9 %
Max. microphone/line input voltage: 3 Veff
Microphone/line input impedance: 40 kΩ, unbalanced / 1 MΩ
Input capacitance: Switchable
Setting range for input sensitivity: 60 dB, adjustable in 3 dB steps
Temperature range: -10 °C to +55 °C
Power supply: 2 AA batteries, 1.5 V or BA 2015 accupack
Nominal voltage: 3 V battery / 2.4 V rechargeable battery
Current consumption: at nominal voltage: typ. 180 mA with transmitter switched off: ≤ 25 μA 
Operating time Typically: 8 h 
SK 100 G4 - Physical & Dimensions
Height: 82mm
Width: 64mm
Depth: 24mm
Weight: 160g
ME 4 - General
Transducer principle pre-polarized condensor microphone
Pick-up pattern cardioid
Sensitivity (free field, no load) (1 kHz) 40 mV/Pa
Max. SPL at 1 kHz 120 dB
Frequency response 50 to 18,000 Hz "Equivalent noise level A-weighted (DIN IEC 651)" 31 dB
Connector 3.5 mm jack
Cable length approx. 1.60 m
Supply voltage 7.5 V
Part Number: 507515
Manufacturer: Sennheiser
---
We Also Recommend