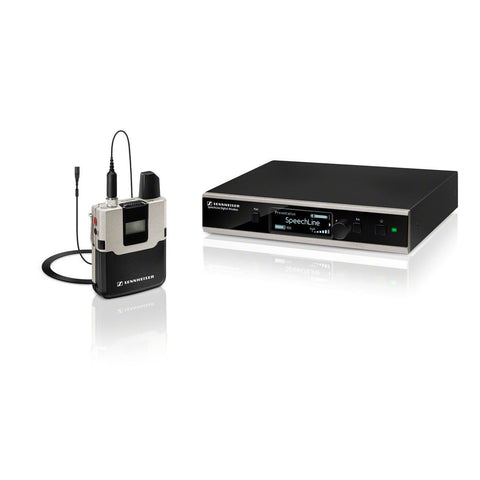 Sennheiser DW-3-UK-C SL Lavalier Mic Set 1.9GHz
505889
Usually shipped within 2-3 working days
---
---
This Sennheiser DW3-UK SL Wireless Lavalier Set on 1.9GHz includes the Bodypack transmitter, stationary receiver and everything to use or install.
It comes with the MKE 1 condenser lavalier microphone – so not just A lavalier mic, but the best and most unobtrusive one for great presentations with best speech clarity.
All sets also come with rechargeable battery with up to 15hrs operating time. The battery is also usb-rechargeable, the cable is also in the box, the USB socket is presumable just a step away around you.
The two type of sets are either Rackmount Sets (-R) come with rackmounts and everything to be mounted in a rack, or as a Case Version (-C Version), in a case – without rackmounts, if you don't want to install the receiver.
SPECIFICATION:
General
AF frequency response:   20 to 20,000 Hz
Dynamic range:   > 120 dB (A)
THD (1 kHz):   typ. 0.1 %
Audio sampling:   24 bit/48 kHz
Signal-to-noise ratio:   > 90 dB (A)
Encryption:   AES 256
Modulation:   GFSK with back channel
Transmission method:   TDMA   |   Space diversity
Latency:   19 ms
Temperature range - relative air humidity max. 95 %
Operation:   –10 °C to +55 °C
Storage:   –20 °C to +70 °C
Temperature range is influenced by battery characteristics.
RF frequency ranges:
EU: 1,880 to 1,900 MHz
USA: 1,920 to 1,930 MHz
Brazil: 1,910 to 1,920 MHz
Taiwan: 1,880 to 1,895 MHz
Japan: 1,893 to 1,906 MHz
MKE1 Lapel Mic Specifications
General
Type:   Pre-polarized condenser microphone
Sensitivity:   5 mV/Pa
Pick-up Pattern:   omni-directional
Max. SPL:   142 dB SPL
SpeechLine Body Pack 
General
RF output power:   adaptive, up to 250 mW  (country-specific)
Line input impedance:  1 MΩ
Input sensitivity:   automatic sensitivity adjustment
AF connection socket:   3.5 mm jack socket, lockable
Weight (w/o accupack):   approx. 88 g
AF frequency response
Mic:   50 to 20,000 Hz
Line:   20 to 20,000 Hz
Max. input level
Mic:   2.2 V RMS
Line:   3.3 V RMS
Power supply
Accupack:   BA 30 (Li-Ion, 3.7 V)
Batteries (optional occessory):   2 x AA size battery (1.5 V)
Operating time
Accupack:   typ. 15 h
Batteries (optional accessory):   typ. 11 h
SpeechLine Rack Receiver 
General
RF sensitivity:  < –90 dBm
RF output power back channel:   adaptive, up to 250 mW (country-specific)
Display:  OLED
Network protocol:   Media Control Protocol  |  TCP/IP IPv4 (DHCP, Manual)/IPv6
Power supply:   12 V DC
Current consumption:   350 mA
AF connection sockets:   XLR/2 x RCA
Antenna sockets:   2 x Rev-SMA
Network socket:   RJ45
DC socket for power supply:   hollow jack
Weight:   approx. 828 g
Digital gain:  adjustable in 6-dB steps
Mic/line level switch:   –24 dB/0 dB
XLR, balanced:   max. +18 dBu
RCA, unbalanced:   max. +6 dBu
Audio effects
Low cut:   –3 dB at 120 Hz
Equalizer:   7-band graphic equalizer with sound presets
Automatic gain control AGC:   Compression/expansion with automatic make-up gain function
Manufacturer: Sennheiser
---
We Also Recommend