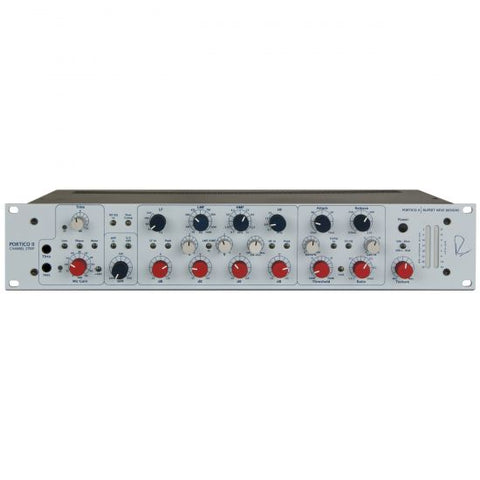 Rupert Neve Designs Portico II Channel
PORTICO 2
Usually shipped within 2-3 working days
---
---
In designing the Portico II Channel Strip, every possible attention has been paid towards not only producing the most accurate, sweet sounding audio topologies, but also enabling engineers to boldly shape or fine tune tracks to the limit of their imaginations.
A self-powered 2U channel module comprised of a fully- featured mic preamplifier, 4-band EQ, compressor-limiter, "texture"control and level metering, The Portico II Channel includes a bevy of new features including: Variable Silk / Silk+ Texture control, a fully tunable "de-esser", multiple VCA filtering and detection options, a transient-optimized swept HPF and parallel compression blending.
With its simple yet powerful topologies and extensive feature set, every element of the Portico II: Channel is geared towards empowering recording artists to realize these visions. Input signals may be derived from any of three sources; Microphone, Line or DI. The Microphone input has a 10K Ω non-reactive input resistance that handles a full 26dBu signal without the need for a pad..
A primary Gain control provides 66dB of gain in 6dB increments for easy recall with a +/- 6dB Trim for fine adjustment. A transient-optimized HPF continuously covering the range from 20-250Hz is included. In addition the usual 48V Phantom Power switch, Phase Inversion, Signal Present indicator and a Mute switch are included.
Inserting a plug into the DI input, selects a 3M Ω Discrete FET DI circuit that includes the transformer-coupled pristine topography that optimises both the microphone and DI inputs, allowing low impedance microphones and high impedance sources like electric guitars and basses to deliver their optimum performance. Primary Gain and Trim controls are fully operational.
SPECIFICATION: 
Mic Pre
Frequency Response:
Main Output, no load
–3 dB @ 2 Hz
–3 dB @ 160 kHz
Noise:
Measured at Main Output, unweighted, 22Hz-22kHz,
Terminated 150 Ohms.
With gain at unity better than –92 dBu
With gain at 66 dB better than –56 dBu
Equivalent Input Noise better than –123 dBu
Gain:
Unity to +66dB in 6 dB steps,
Trim continuously adjustable from –6dB to +6dB
Line Input:
Trim continuously adjustable from –6dB to +6dB
Maximum Output Level:
Maximum output from 20 Hz to 40 kHz is +25 dBu.
Phantom Power:
Total Harmonic Distortion and Noise:
@ 1kHz, +20 dBu output: Better than 0.002%
As above, Silk Engaged: Better than 0.2% Second Harmonic
@ 20Hz, +20 dBu out Better than 0.004%
@ 20Hz, +20 dBu out Better than 0.020%
IM Distortion: Better than 0.002%
Slew rate Better than 4 V/uS
High Pass Filter:
Frequency: Continuously Variable from 20 Hz to 250Hz
Slope: 12 dB/Octave Bessel
Manufacturer: Rupert Neve Designs 
---
We Also Recommend