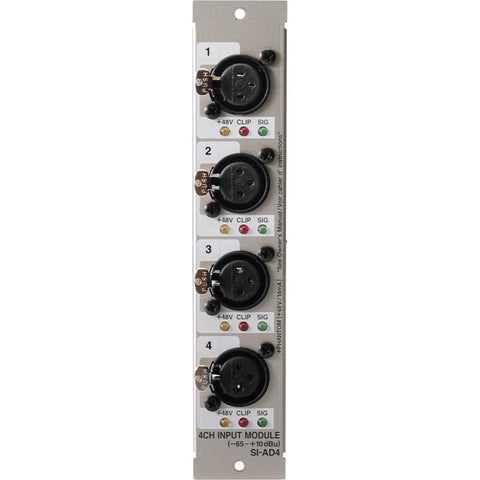 Roland SI-AD4 Analogue Input Module - Ex Demo
SI-AD4 EX DEMO
Usually shipped within 2-3 working days
---
---
Ex Demo Unit | 1 Available | Light Cosmetic Wear | Images For Illustration Only.
The Roland SI-AD4 4-Channel Analogue Input Module offers high quality Pre-amps on each input channel in an analogue system, low-level microphone signals are boosted using a mic preamp only after the long, arduous journey down the analogue snake.
For this reason it's difficult to avoid degradation and cross talk. The S-4000S-3208 is equipped with high quality and remote controllable XR-1 pre-amps that boost the input gain right at the microphone, where the highest quality signal is found. This ensures that your audio will sound its best.
Of course once the signal is in digital form, it is immune to analogue cabling losses. The XR-1 pre-amp has been specially designed for live audio applications and is made of high quality components carefully selected by Roland's engineers. 
Manufacturer: Roland
---
We Also Recommend