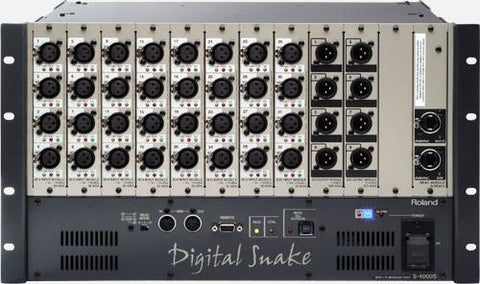 Roland S-4000S-0832 - Ex Demo
S4000S0832 EX DEMO
Usually shipped within 2-3 working days
---
---
Ex Demo Unit | 1 Available | Light Cosmetic Wear | Images For Illustration Only.
The S-4000S-0832 is a component of the S-4000 Digital Snake System. It has 8 inputs, 8 outputs and redundant Ethernet connectors.
It is typically used on the stage providing 8 mic/line inputs and 32 outputs or returns. Each channel has remotely switchable Phantom Power as well as a 20 dB pad. The professional quality XR-1 mic preamps are remotely controllable in zipperless 1dB steps using the S-4000R Remote Controller or a Mac or PC using the free RCS software. The preamps have been designed for live sound applications and provide superb audio quality with 28 dB of headroom.
The redundant Ethernet connectors are rugged Neutrik Ethercon connectors configured as Main and Backup. In case the Main cable is compromised, the system will automatically and seamlessly switch to the Backup cable and light an Indicator LED.
In addition to redundant Ethernet connectors and an optional redundant power supply, the unit has a covered power switch to prevent accidental power loss as well as a power cable security bracket. The S-4000S-0832 is rack mountable and provides flush or recessed mounting positions so that a cover can be placed on its rack case while connectors are still in place.
Product Features
8 Mic/Line Inputs and 32 +4 Line Level Outputs provide professional quality source and return audio
Source audio can be split to many locations using a standard Ethernet gigabit Switch
High quality XR-1 mic preamps provide superb sound with lots of headroom
Zipperless remote control of preamp levels available using S-4000R from stage or FOH positions
Mic preamps on stage and digital audio transmission system eliminate the loss of high frequencies and intelligibility found in analog cabling
Mic/Line level eliminates need for direct boxes on stage
Redundant Ethernet ports with rugged Neutrik Ethercon connectors offer seamless switching to backup cable with no loss of audio
Optional S-240P power supply switches automatically with no loss of audio in case of power supply interruption
Modular design allows Input and Output modules to be changed for different system configurations
Product Specifications
General
Number of Channels: 8 in 32 out
AD Conversion: Sample Rate: 96.0 kHz Signal Processing: 24 bit
DA Conversion: Sample Rate: 96.0 kHz Signal Processing: 24 bit
Frequency Response: -2 dB / +0 dB (@ +4 dBu, 20 Hz to 20 kHz)
Total Harmonic Distortion + Noise: 0.05 % or less (Pad: On, Input Gain: +4 dBu, 22 to 20000 Hz)
Dynamic Range: 110 dB
Dynamic Range: 110 dB
Cross Talk: -80 dB
Nominal Input Level: -65 to -10 dBu (PAD: Off) -45 to +10 dBu (PAD: On) (1 dB step, Max. +28 dBu)
PAD: 20 dB On/Off
Input Impedance: 20 k ohms
Nominal Output Level: +4 dBu, Max. +22 dBu
Output Impedance: 150 ohms
Recommended Load Impedance: 10 k ohms or greater
Residual Noise Level (IHF-A, typ.)-90 dBu
Equivalent Input Noise Level (E.I.N.): -128 dB
Network Latency: 375 microseconds when using REAC cable only (AD - REAC - DA Latency: about 1.2 ms)
Connectors: Input: 8 (XLR type, balanced, phantom power, 4 ch input module x 2 ) Output: 32 (XLR type, balanced, 4 ch output module x 8) REAC: MAIN, BACKUP (RJ-45 EtherCon type) Remote Connector: 1 (RS-232C, DB-9 type) MIDI Connectors: IN, OUT (5-pin DIN type)
Indicator: EXT Indicator (External Power Supply Unit) INT Indicator REAC Indicator CTRL Indicator ALARM Indicator MUTE ALL OUTPUTS Indicator
AC Power Supply: AC 115 V, AC 117 V, AC 220 V, AC 230 V, AC 240 V (50/60 Hz)
DC Power Supply: +24 V (from optional external power supply unit : S-240P)
Phantom Power: +48 V / 14 mA (each input on SI-AD4, remote controlled)
Operation Temperature: 0 to +40 degrees Celsius +32 to +104 degrees Fahrenheit
Physical & Dimensions
Height: 266.4mm
Width: 482mm
Depth: 336mm
Weight: 17kg
Manufacturer: Roland
---
We Also Recommend