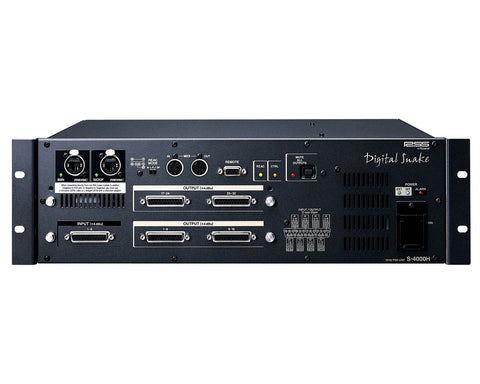 Roland S-4000H Digital Snake Unit - Ex Demo
S4000H EX DEMO
Usually shipped within 2-3 working days
---
---
Ex Demo Unit | 1 Available | Light Cosmetic Wear | Images For Illustration Only.
Roland's S-4000H is a component of the S-4000 Digital Snake System. It has 8 +4 line level inputs, 32 +4 line level outputs and redundant Ethernet connectors.
It is typically used at the Front of House console position providing 32 outputs to the console from the stage sources and 8 inputs or returns from the console's buses.
The S-4000H is also often used at Split positions providing 32 outputs of the Stage sources for monitor consoles, recording rooms or broadcast feeds.
Inputs and Outputs are provided on 8-channel 25 pin D-Sub connectors using the Tascam™ wiring standard. The audio is +4 line level and there are four 8-channel Output connectors and one 8-channel Input connector.
Offers high quality line level Inputs and Outputs for Split or FOH locations along with Ethernet and optional power supply redundancy for a high quality, secure system.
Product Features
Convenient 8-channel D Sub connectors with security bar
MASS connector options for touring and PA/Rental applications
Redundant Ethernet ports with rugged Neutrik Ethercon connectors offer seamless switching to backup cable with no loss of audio
Optional S-240P power supply switches automatically with no loss of audio in case of power supply interruption
Product Specifications
General
Number of Channels: 8 in 32 out
AD Conversion: Sample Rate: 96.0 kHz Signal Processing: 24 bit
DA Conversion: Sample Rate: 96.0 kHz Signal Processing: 24 bit
Frequency Response: -2 dB / +0 dB (@ +4 dBu, 20 Hz to 20 kHz)
Total Harmonic Distortion + Noise: 0.05 % or less (Input Gain: +4 dBu, 22 to 20000 Hz)
Dynamic Range: 110 dB
Cross Talk: -80 dB
Nominal Input Level: +4 dBu, Max. +22 dBu
Input Impedance: 30 k ohms
Nominal Output Level: +4 dBu, Max. +22 dBu
Output Impedance: 600 ohms
Recommended Load Impedance: 10 k ohms or greater
Residual Noise Level (IHF-A, typ.): -90 dBu
Network Latency: 375 microseconds when using REAC cable only (AD - REAC - DA Latency: about 1.2 ms)
Connectors:

Input: 1 (DB-25 type, balanced, 8 channels)
Output: 4 (DB-25 type, balanced, 32 channels each) REAC: MAIN, BACKUP (RJ-45 EtherCon type) Remote Connector: 1 (RS-232C, DB-9 type) MIDI
Connectors: IN, OUT (5-pin DIN type)

Indicators: EXT Indicator (External Power Supply Unit) INT Indicator REAC Indicator CTRL Indicator ALARM Indicator MUTE ALL OUTPUTS Indicator
AC Power Supply: AC 115 V, AC 117 V, AC 220 V, AC 230 V, AC 240 V (50/60 Hz)
DC Power Supply: +24 V (from optional external power supply unit : S-240P):
Power Consumption: 70 W
Current Draw: (for an optional external power supply unit; Model S-240P)6 A Operation Temperature 0 to +40 degrees Celsius +32 to +104 degrees Fahrenheit
Physical & Dimensions
Height: 133mm
Width: 482mm
Depth: 387mm
Weight: 9.4kg
Manufacturer: Roland
---
We Also Recommend