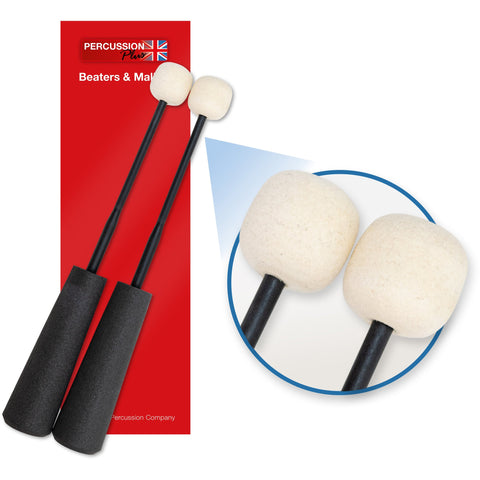 Percussion Plus PP753 Beaters Pair
PP753
Usually shipped within 2-3 working days
---
---
The Percussion Plus PP753 Easy Grip Hard Felt Beaters Pair are an essential addition to every percussionist's stick bag
Versatile and extremely lightweight material is solid enough to produce clear notes with long decay on all types of tuned percussion instruments, but its soft finish creates a warm attack with no hint of percussive clicking.
This muted directness also makes these beaters very effective when playing large drums, gongs, and suspended cymbals.
These particular beaters consist of a large cylinder of hard white felt mounted on tapered plastic sticks with Easy Grip. The large ultralight tapered foam block increases control and makes the stick easier for inexperienced or disabled percussionists to hold.
This listing is for a packet of 2 beaters only (1 pair).
Details:
Same as PP070 beaters with Easy Grip handle
Highly versatile 30mm cylindrical hard felt heads
For very soft attack with relatively bright long-lasting tone
Well suited to xylophones, metallophones, marimbas, vibraphones, large drums, gongs, and cymbals!
23cm contoured black plastic shaft with Easy Grip
Manufacturer: Percussion Plus 
---
We Also Recommend