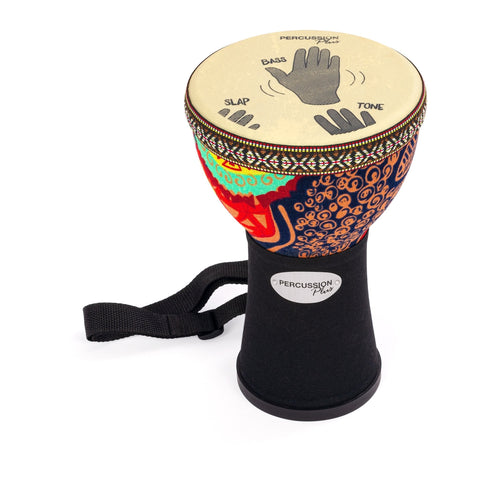 Percussion Plus PP6630 6" Slap Djembe
PP6630
Usually shipped within 2-3 working days
---
---
The Percussion Plus PP6630 6" pretuned slap Djembe is a fantastic and affordable drum that produces a vibrant and bold sound when struck.
With these Slap Djembes from Percussion Plus, you get a great looking high-quality instrument with an innovative 'how to play' guide printed on the drum skin. There are many different techniques used to produce tones on a djembe and any of these can be used on our djembes.
The printed graphic on the head of the drum offers suggested hand positions for the three main tones on a djembe: slap, tone, and bass.
With this easy method, teaching and learning is simple and allows you to tailor your class to include visual as well as instructive and aural learners, providing an inclusive way into music making for all levels and abilities.
Features:
Pre-tuned
Synthetic shell
Synthetic drum heads with screen-printed surface
Heat sealed cotton cloth exterior
Deluxe rubber no-scuff base
Supplied with clip on carrying strap attached to fixed metal hoops 
Manufacturer: Percussion Plus 
---
We Also Recommend