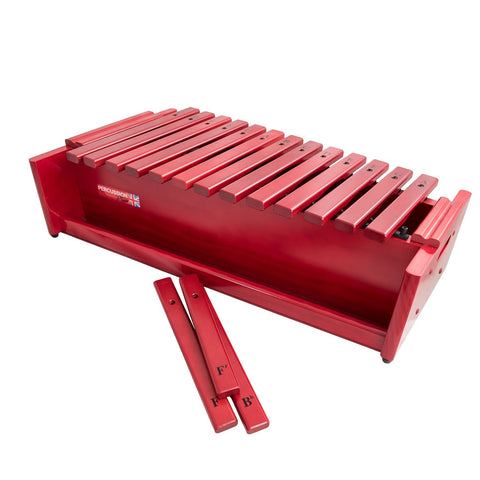 Percussion Plus PP025 Xylophone
PP025
Usually shipped within 2-3 working days
---
---
The Percussion Plus PP025 Classic Red Box Xylophone Alto Diatonic has been manufactured from carefully selected timber.
This alto diatonic xylophone is lightweight sturdy and durable and is a very popular instrument within the Classic Red Box range.
All instruments within this range mean just that; that there are no short cuts to the sound of this xylophone as great care has been taken to ensure that the instrument has followed strict precision tuning control to A440 (pitch standard). This standard of tuning is applied to our educational ranges not just the professional instruments making us the first choice for schools or players requiring their instruments to be note perfect.
Great care and attention has been made in the production of this instrument to ensure that the quality of finish is perfect and with its four resonating chambers producing beautiful tones and its synthetic durable notes this xylophone will be hard to beat and once played other xylophones will just not sound the same.

There are spaces for the F# and Bb note bars supplied with the diatonic half. The beaters are not included but we thoroughly recommend the PP070 pair of hard felt beaters.

The PP025 diatonic half can be accompanied with the PP026 chromatic half to make a fully chromatic instrument.

An alternative alto chromatic half xylophone is available from the Harmony range – PP5025.
Manufacturer: Percussion Plus
---
We Also Recommend