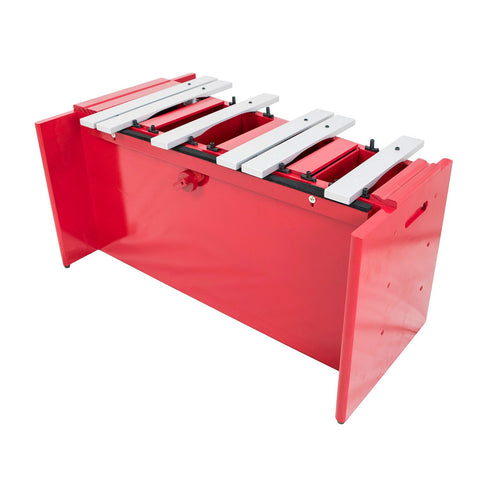 Percussion Plus PP022 Metallophone
PP022
Usually shipped within 2-3 working days
---
---
The Percussion Plus PP022 Classic Red Box Metallophone Bass Chromatic Half has a much warmer and more mellow sound quality when compared to the similarly constructed glockenspiel.
It is a popular instrument in education and Percussion Plus Classic Red Box instruments are market leaders and offer exceptional build and tone quality.
This bass diatonic metallophone has four resonating chambers which creates a full and details tone quality and a hand operated damper for on or off damping effects.
Build quality is excellent with accurately tuned note bars mounted onto a solid wooden frame, these instruments are designed for schools and are built to last.
This model is the chromatic half and is designed to be paired with the PP021 diatonic instrument. It includes 6 note – C#(Db)29, D#(Eb)31, G#(Ab)36, C#(Db)41, D#(Eb)43, and G#(Ab)48 and allows room for the F#(Gb) and A#(Bb) note bars that are included with the diatonic half.
The beaters are not included but we thoroughly recommend PP071 pair of medium beaters.

An alternative bass chromatic half metallophone is available from our Harmony range – PP5022.
Manufacturer: Percussion Plus 
---
We Also Recommend