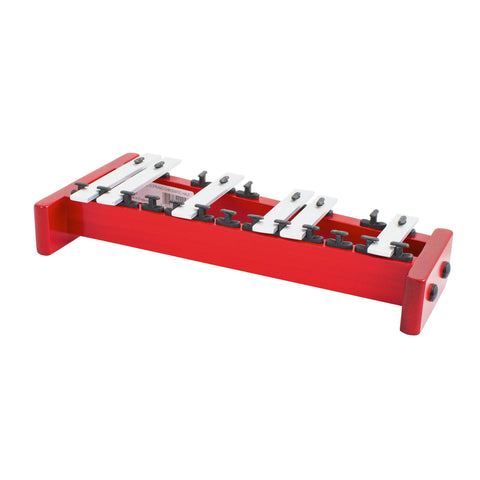 Percussion Plus PP002 Glockenspiel
PP002
Usually shipped within 2-3 working days
---
---
The Percussion Plus PP002 Soprano Chromatic Half Glockenspiel has been designed as an expansion to fill in the accidentals in the scale of the PP001 diatonic instrument.
Its frame is slightly taller than the PP001 allowing the 'black notes' to sit above and overhang the 'white notes', just like a piano keyboard.

Carefully selected timber and high quality aluminium and steel. Great care and attention has been made in the production of this instrument to ensure that the quality of finish and tuning is perfect. The frame is finished in our trademark red to identify it as a genuine Percussion Plus product.

All instruments within the Classic Red Box range have followed strict precision tuning control to A440 (pitch standard). This standard of tuning is applied to our educational ranges, not just the professional instruments making us the first choice for schools or players requiring their instruments to be note perfect. Once played any other glockenspiel will just not sound the same.

This instrument comes with 6 note bars – C#(Db)65, D#(Eb)67, G#(Ab)72, C#(Db)77, D#(Eb)79, and G#(Ab)84 – as well as space for F#(Gb) and A#(Bb) that are included with the diatonic half.

Beaters are not included however we thoroughly recommend our PP067 pair of hard beaters.
Manufacturer: Percussion Plus 
---
We Also Recommend