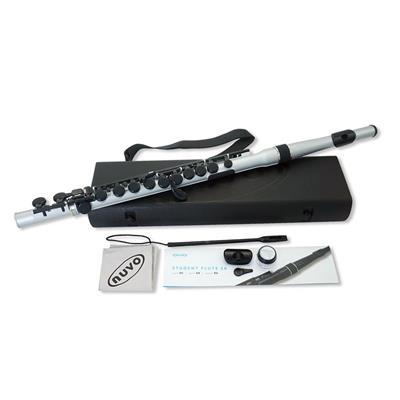 Nuvo N235SFSB Student Flute Metallic Silver
N235SFSB
Usually shipped within 2-3 working days
---
---
The Nuvo N235SFSB Student Flute Outfit In Metallic Silver has been finding favour around the world since its release, and the new 2.0 model seeks to build on the established reputation with students, teachers and professional musicians alike.
This model represents a perfect starter instrument as well as an exciting alternative for players of all ages and abilities. The student flute is fitted with the standard lip plate, but also includes Nuvo s Firstnote lip plate which transforms traditional embouchure with a recorder-style fipple to help beginners who struggle with embouchure to focus on their enthusiasm and learn some fingerings before coming back to the lip technique.
The loud and responsive tone from this instrument is sure to impress. The Nuvo flute is around 50% lighter than a traditional flute, but also more durable and easier to maintain.
As with all Nuvo instruments, the flutes are completely waterproof and therefore very easy to keep clean with soapy water. The student flute really is an instrument for all occasions Nuvo is equally at home in the concert hall, marching band, folk club or at the beach!
New features on the 2.0 models are: Key caps Soft-touch silicone key caps more comfortable, free from nickel allergies Design new body shape, very ergonomic and even more eye catching Colours now available in metallic blue and metallic silver along with classic black Case new reduced size, moulded case Available in: Black, Metallic Blue, Metallic Silver.
Manufacturer: Nuvo
---
We Also Recommend