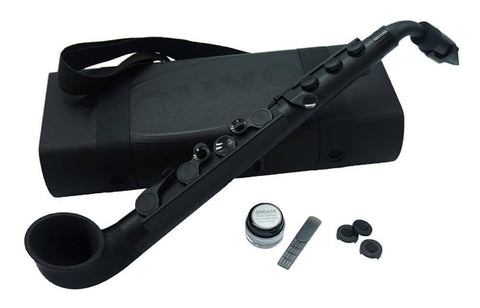 Nuvo jSax Black Black Trim
N520JBBK
Usually shipped within 2-3 working days
---
---
The Nuvo jSax in black with black trim supplied with case has a traditional fingering system and serves to enable newcomers to develop embouchure and tuning skills which will be directly transferable to a full size saxophone.
The tone is surprisingly mellow, and therefore this instrument offers a lot of fun for both newcomers and established amateur saxophonists. Following in the tradition established with other Nuvo instruments, the jSax is pitched in C (concert pitch).
This makes integration into classroom music making very easy, and means that the jSax is also compatible with all The instrument has a fully chromatic range from middle C (C4) to G in the next octave up (G5). Due to its design and construction, the jSax requires very little maintenance and is simple to clean - warm soapy water will do the trick in next to no time! Since the pads are synthetic, there is no risk of water damage, simply allow the instrument to drip dry before returning to its case.
You can take your jSax with you wherever you go, they love camping, hiking, climbing and even swimming! The jSax outfit is supplied with two synthetic reeds, strengths 1.5 and 2 which are great for getting started. In addition to Nuvo synthetic reeds, more experienced players may prefer to use traditional cane reeds - Eb clarinet size is a perfect fit.
The standard jSax outfit includes moulded case and carry strap, and is supplied as the curved instrument. Some adults may find a straight option more comfortable, in which case the "Straighten your jSax" kit consists of a straight neck and bell to transform the curved instrument.
Manufacturer: Nuvo
---
We Also Recommend