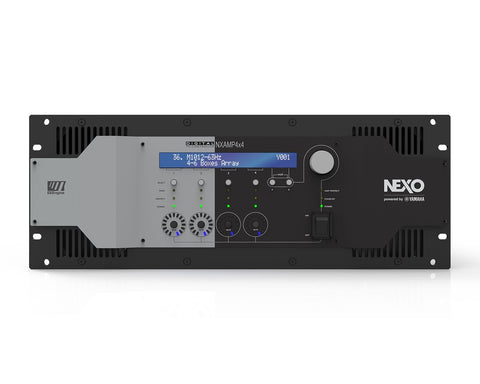 Nexo NXAMP4x4C MK2 Power Amplifier
NXAMP4X4C
Usually shipped within 2-3 working days
---
---
The NXAMP 4X4C MK2 Powered TDcontroller comes available in a 4-channel size and produces an output capacity of 4x4000W under 2Ω, establishing the 4x4 model as one of the most powerful amplifiers to ever be produced.
This model will permit the users to connect a large number of NEXO speaker systems while working on a platform that will maximise their performance. With the optional incorporation of the new generation EtherSound 100 hardware, the NXAMPs will additionally provide an unprecedented capability of Digital Audio networking and Control.
The NXAMP 4X4 Powered TDcontroller is based on an innovative design that will provide the full integration of speaker and amplifier control with output capacities that will allow end users a cost effective solution.
The innovative control structure implemented into the NXAMP is via the latest generation of NEXO's TDcontroller into the amplifier. This full integration of control will provide a safety base and real-time performance that is a first of kind by having all the parameters being controlled by the DSP.
This real-time control will offer the end users the ability to manage the voltage/current/temperature sense lines from the amplifiers output, protecting both the amplifier and its power supply in real time, while simultaneously offering all control parameters required for the speakers.
FEATURES:
NXAMP 4x4 is among the industry's most powerful amplifiers
Ultra flexible true four channels digital processing and amplification solution offering a perfect match to any NEXO speakers
Cost effective integration of command, control, protection and amplification of all NEXO loudspeaker systems
Lighter and requires less rack space than conventional amplifier processor systems
Eliminates unnecessary A/D conversion
Optional EtherSound Networking
SPECIFICATION: 
General
Analog audio inputs: 4x balanced analogue inputs on XLR3 with a second XLR3 for link
Power outputs: 4x Neutrik Speakon NL-4 outputs
RS232 port: 1x DB-9 connector for firmware upgrade and accessories connection
GPIO port: 1x DB-25 connector with 5x Global Purpose Inputs and 8x Global Purpose Outputs
Expansion slot: For networking audio cards, 4x digital audio inputs and remote control
Mains sockets: 2x Neutrik Powercon NAC3 (2x 16 A) or NAC3-HC (2x 32 A) depending on model
Front panel buttons and knobs: On/Off Mains switch, Select Wheel, 2x Menus buttons, 4x Select and 4x Mute buttons
Display: 40 characters by 2 lines LCD display with LED backlight
Global status display: Power, Standby and Amp Protect LEDs
Speakers/Amp status display: Per channel, output current sensing, speaker protection and channel soft clip
Electrical Safety Certification: cULus, CB (CE)
EMC Certification: CE, FCC
Green status: Compliant with ROHS directive
Physical & Dimensions
Height: 4U 
Depth: 457mm
Weight: 24.5kg
Manufacturer: Nexo
---
We Also Recommend