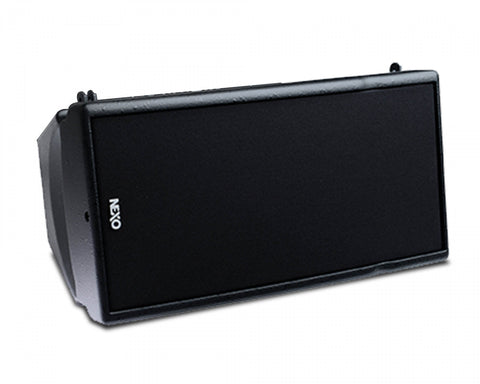 Nexo GEO M620 Line Array Element
GEO M620
Usually shipped within 2-3 working days
---
---
The Nexo GEO M620 in black is a full-range unit for stand-alone, curved array or line array application. Extremely compact in size (191 x 373 x 260 mm), the M620 module punches well above its weight of less than 10kgs.
Using a NEXO-designed long-excursion high-efficiency 6.5" LF driver and a 1" throat driver on a BEA/FEA optimised HR Wavesource, the M620 delivers a frequency response of 80Hz-19kHz ±3dB, with nominal peak SPL of 127dB. HF dispersion is 80° or 120° horizontal, with 20° vertical coverage, 0° to 20° splay when arrayed.
Using NEXO's HRW patented waveguide for optimum HF coupling between elements, the M620 performs in a variety of configurations, facilitated by a fully-integrated 3-point rigging system.
Features
Internal 3-point rigging system
Long-excursion high-efficiency 6.5" LF driver and a 1" throat drive
80Hz-19kHz ±3dB frequency response
0° to 20° splay when arrayed
HF dispersion is 80° or 120° horizontal, with 20° vertical coverage
Extremely compact in size (191 x 373 x 260 mm) (Weight: Net 9.7kg)
Black
Specification
General
Frequency Response:  80Hz – 19kHz ±3dB
Usable Range @-6dB:   75Hz – 20kHz
Sensitivity 1W @ 1m:   95dB SPL Nominal
Nominal Peak SPL @ 1m:   127dB
HF Dispersion:   80˚or 120˚Horizontal (CCD) 
Crossover Frequencies:   LF-HF:  2kHz Passive
Nominal Impedance:   8Ω
Recommended Amplifiers:   450W per box (3 boxes max in parallel on one channel amplifier)
Components:  LF:  1 x 6.5" 8Ω long excursion driver
HF:  1 x 1" throat driver on a BEA/FEA optimised HR Wavesource
Physical & Dimensions
Dimensions:  191mm x 373mm x 260mm (HxWxD)
Weight:  Net 9.7kg
Connectors:   2 x NL4 Speakon 4 poles
Construction:   Lightweight Polyurethane composite
Fittings:  Handles Side Handles
Front Finish:   Acoustic Fabric fitted front grille
System Operation
Electronic Controller:  The NEXO TDController's presets are precisely matched to the GEO M6 Series cabinets and include sophisticated protection. Using GEO M6 Series cabinets without a properly connected NEXO TDController will result in poor sound quality and can damage components.
Speaker Cabling:  2+/2-
Manufacturer: Nexo
---
We Also Recommend