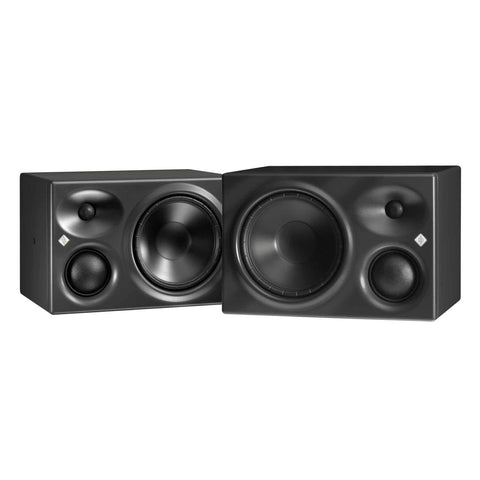 Neumann KH310 A (Pair)
KH 310 A PAIR
Usually shipped within 2-3 working days
---
---
The Neumann KH 310 is an active 3-way studio monitor for near-field or part of a multichannel system.
These speakers feature a Mathematical Modelled Dispersion Waveguide offering a wider sweet spot and minimising reflection from the mixing desk as well as a 4-position bass, low-mid and treble controls for use in difficult acoustic environments. To reduce distortion, the Neumann KH 310 uses a powerful combination of fabric domes, in-house designed drivers and high power magnets. The result is a much improved transient response and improved detail in the mid-range.
The Neumann KH 310' s magnetically shielded and sealed cabinet provides a much more detailed bass transient response while avoiding standing waves resonance offering a tighter imaging. The Neumann KH 310 can be used as near-field or as part of a multi-channel setup such as 5.1 setups and can be used for tracking, mixing and mastering.


---
We Also Recommend