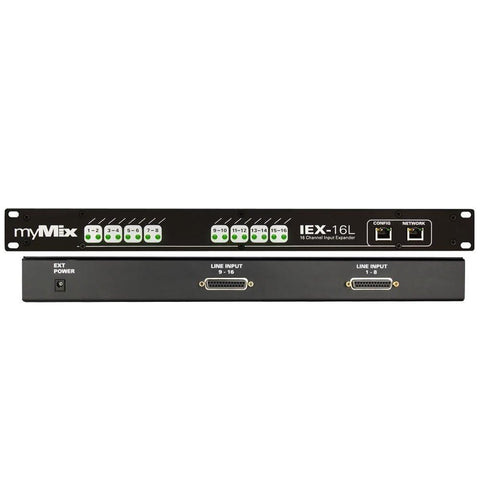 myMix IEX-16L Input Expander
MM-IEX-16L
Usually shipped within 2-3 working days
---
---
The IEX-16L is a 16-channel input expander for the myMix system. Equipped with two DB25 connectors, it allows the connection of up to 16 balanced line-level signals that can be fed from devices such as mixing consoles or external microphone pre-amps.
The IEX-16L is also available as IEX16L-A with two additional 8 channel ADAT® inputs, which can be activated individually. This allows the use of up to 16 Line level sources, or 8 line level and 8 ADAT® inputs, or 16 ADAT® inputs on a single IEX-16L.
Multiple IEX-16L can be used in a myMix network. The IEX-16L can be configured using any myMix device on the network or the optional myMix CONTROL software, including input channel naming and stereo linking.
The configuration is stored automatically in the IEX-16L. The myMix CONTROL software allows up/downloading of complete settings for IEX16L. The IEX16 can be locked connecting a myMix to the CONFIG port, or via myMix CONTROL.
The CONFIG ports provides all data but no audio. It can also be used to connect the myMix CONTROL network interface (myMix PLUG).
FEATURES:
16 channel input expander for line level signals. Expands a myMix system by 16 audio channels.
DB25 connectors for line level signals ("Tascam" pin out)
Save input configuration with channel mode, names and input gain settings
Can be locked through CONFIG port
Large dual colour LEDS for signal present and clip
Includes power supply (identical to myMix). 1RU. Multiple IEX-16L can be used on a system for up to 500 audio channels in total (using a managed switch). For digital ADAT inputs please see the IEX-16L-A.
Manufacturer: myMix
---
We Also Recommend