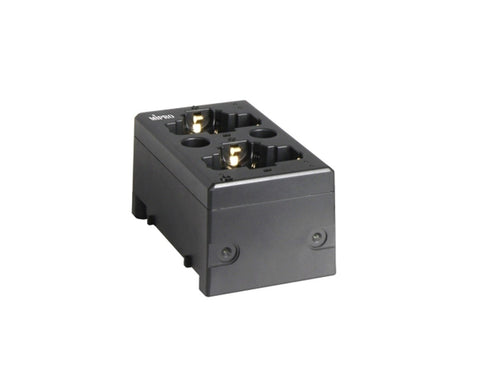 MIPRO MP80 3-In-1 Transmitter Charger Station
MP80
Usually shipped within 2-3 working days
---
---
The MP-80 is a new generation of charging station designed exclusively for MIPRO rechargeable transmitters. Each station has two charging slots. Each slot has a 3-in-1 charging design, enabling multiple charging options:
Two handheld transmitters 
Two bodypack transmitters 
Two ICR18500 lithium batteries 
One handheld & one bodypack transmitter 
One handheld transmitter & one ICR18500 
One bodypack transmitter & one ICR18500 
Each station also provides two storage slots for 2 spare ICR18500 lithium batteries. Precise charging status with red (charging) & green (charged) indicators for easy reading by the users. Multiple charging stations can be easily connected for more charging options.
FEATURES:
Two charger slots provide convenient charging for MIPRO rechargeable handheld & bodypack transmitters and ICR18500 rechargeable batteries
Intelligent charging circuitry provides efficient and safe charging
Precise charging status with red (charging) & green (charged) indicators
The reverse polarity protection circuit prevents charging errors
Two spare ICR18500 battery storage slots
Storage compartment for charging cable
Two or more chargers can be easily interconnected for more charging options
SPECIFICATION:
General
Compatible Transmitter: Rechargeable Handheld & Bodypack 
Input Voltage Range: DC 10 ~ 15 V / 1A 
Battery Type: ICR 18500 3.7 V Li-ion Battery 
Charge Method: Termination by 20% regulation current 
Charge Current: Approx. 500 mA by regulation current  
Current Consumption: Approx. 600 mA / 12 V, for two batteries charging at the same time 
Compatible: For charging transmitters and lithium batteries
Physical & Dimensions

Height: 78mm
Width: 92mm
Depth: 158mm
Weight: 313g
Manufacturer: MiPRO
---
We Also Recommend