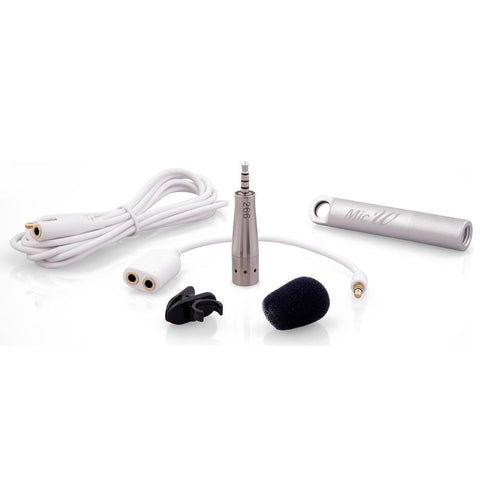 MicW i266 Kit
MICW-I266-KIT
Usually shipped within 2-3 working days
---
---
The i266 is a high sensitivity, wide cardioid microphone designed for multipurpose high quality sound recording.
This microphone has been manufactured to the highest mechanical and electronic engineering standards. As soon as you take it out of its packaging and insert into your iPad, iPhone or Android device you instantly appreciate the aesthetics of its design.
The i266 features a 12mm capsule and is an electret condenser microphone which houses outstanding performance in the smallest of packages. Tough and incredibly durable it can easily be stored in your pocket or on a key-ring.
The i266 can be used to capture vocals, instrumentation and any noteworthy performance onto your iPhone, iPad or Android device quickly and with amazing quality for such a small tool.
The higher sensitivity and 12mm capsule of the i266 allows for exceptional audio pick up from distance, allowing you to get close to the action without interfering with the performance.
If you require your phone or iPad to operate as a simple no fuss ENG (Electronic News Gathering) device the i266 helps make it the perfect solution. Sturdy enough to withstand the rigours of an ENG life, the increased sensitivity and clear sound of the i266 microphone is an excellent choice for all interviewers.
With the larger 12mm diaphragm of the i266 it actually enables the iPhone or Android device to act as a genuine reporter's tool of choice. It is perfect for broadcasting houses and radio stations that conduct out of house interviews but with restricted budgets.
The i266 can also be used in conference room situations and is an excellent choice for all voice recordings.
Features
Wider than normal cardioid pattern
Use with iPhone, iPad & Android devices
7mm Capsule
Tough & Durable
Suggested Applications
SPL (Sound Pressure Level) measurement
RTA (Real Time Analyser) measurement
Recording vocals and/or instruments
Record interviews (news, journalism etc.)
In the workplace. i.e. measuring sound level in the workplace, record meetings, audio notes etc.
Suggested Compatible iOS Apps
DropVox - Record Voice Memos to Dropbox
QuickVoice2Text Email (PRO Recorder)
GarageBand
DAW
Auria
Package Contents
i266 Microphone
WS013 - Wind screen
CL013 - Collar or lapel clip
CB011 - 2m extension cable
CB012 - Split cable
AC011 - Carry case and stand mount
Plastic case for mic and accessories
Also available as a mic only, without accessory kit: MicW i266
Specifications
| | |
| --- | --- |
| Type: | Electret Condenser |
| Capsule diameter: | 12mm |
| Principle of operation: | Pressure Gradient |
| Polar Pattern: | Cardioid |
| Sensitivity(±4dB): | -40 dB (10mV/Pa) |
| Frequency Response: | 20 Hz~20kHz |
| S/N ratio: | More than 55dB |
| Impedance: | Less than 2.2k |
| Power Source: | Plug-in power capability, plug and play |
| Operating Temperature: | -20℃~+50℃ |
| Length: | 55mm |
| Weight: | 16g |
| Connector: | 3.5mm 4-Pole headset interface |
Manufacturer: MicW
---
We Also Recommend