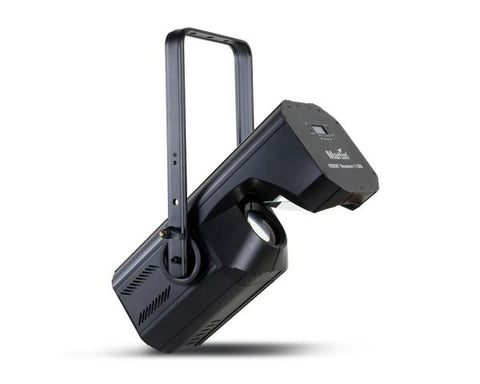 Martin RUSH Scanner 1 LED
90480120/ MAR1290
Usually shipped within 2-3 working days
---
---
The Martin RUSH Scanner 1 LED is designed to enable lighting designers to boost the wow factor and energise crowds with high-speed mid-air looks in a variety of entertainment venues and nightclubs.
This fixture delivers high output via sharp optics and is packed with eye-catching effects.  With its high-speed pan and tilt capabilities, the RUSH Scanner 1 LED is ideal for creating dramatic atmospheres and boosting energy levels on cruise ships, in dance clubs and other nightlife venues.
Compact size, low weight, rugged construction and long-life LEDs also make the RUSH Scanner 1 LED a favourite for rental companies seeking to produce once-in-a-lifetime memorable events through powerful, dynamic lighting effects.
FEATURES:
Breathtakingly fast pan and tilt
Rich, dynamic feature set including two colour wheels, two gobo wheels and rotating prism
High-power, long-life 90 W white LED engine
Sharp projections with motorised focus
Auto trig and music trig standalone modes
Compact size and rugged construction
SPECIFICATION:
Dynamic Effects
Colour wheel 1: 8 colours plus open, rotation with variable direction and speed
Colour wheel 2: 8 colours (incl. 1 x UV, 2 x CTC) plus open, rotation with variable direction and speed
Rotating gobo wheel: 6 rotating/indexing gobos plus open
Fixed gobo wheel: 7 gobos plus open
Electronic 'shutter' effect: Strobe, pulse effects, instant open and blackout
Prism: Indexing and rotation with variable direction and speed
Focus: Motorised Electronic dimming: 0 - 100%, four dimming curve options
Pan: 170°, coarse & fine control
Tilt: 75°, coarse & fine control
Control and Programming
Control options: DMX, standalone, synchronised master/slave
DMX channels: 16
Standalone trigger options: Sound activation (music trig), auto trig
Standalone sequences: 9 pre-programmed shows
Standalone memory: 20 scenes
Music trig sensitivity: Adjustable
Setting and addressing: Control panel with backlit LCD display
DMX compliance: USITT DMX512/1990
Optics
Light source: 90 W LED engine
Minimum LED lifetime: 30 000 hours (to >70% luminous output)*
Rotating gobo size: 24 mm (0.94 in.)
Rotating gobo image size: 20 mm (0.79 in.)
*Figure obtained under manufacturer's test conditions
Construction
Colour: Black
Housing: High-impact flame-retardant thermoplastic
Protection rating: IP20
Installation
Mounting points: Adjustable bracket, surface or truss mount
Location: Indoor use only, must be fastened to surface or structure
Orientation: Any
Connections
AC power in/thru: Neutrik PowerCon
DMX data in/out: 3-pin and 5-pin locking XLR
Electrical
AC power: 100-240 V nominal, 50/60 Hz
Power consumption: 168 W Typical half-cycle RMS inrush current at 240 VAC: 10 A
Fuse: T 6.3 A
Power supply unit: Auto-ranging electronic switch mode
Typical Power and Current
100 V, 60 Hz: 1.7 A, 170 W, PF 0.997 120 V, 60 Hz: 1.4 A, 165 W, PF 0.994 230 V, 50 Hz: 0.7 A, 162 W, PF 0.937 Figures obtained at nominal voltage. Figures are typical, not maximum, allow for +/- 10% variation
Thermal
Cooling: Forced air
Maximum ambient temperature (Ta max.): 40° C (104° F)
Minimum ambient temperature (Ta min.): 0° C (32° F)
Total heat dissipation (calculated, +/- 10%, at full intensity): 570 BTU/hr.
Physical
Length: 588 mm (23.1 in.)
Width: 303 mm (11.9 in.)
Height: 193 mm (7.6 in.)
Weight: 9.6 kg 21.1 lbs.)
Manufacturer: Martin
---
We Also Recommend