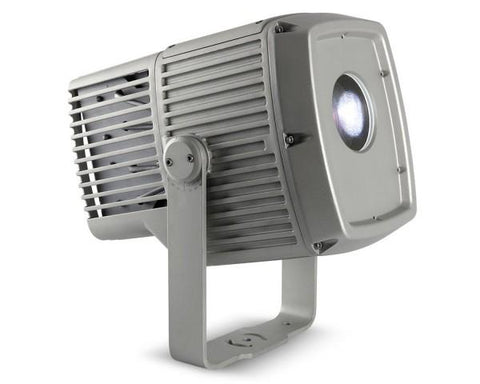 Martin Exterior Projection 500 Very Wide
90506535/ MAR1084
Usually shipped within 2-3 working days
---
---
The Martin Exterior™ Projection 500 (Very Wide) is a powerful fixture for integrating textures, patterns and graphics in outdoor lighting designs.
This fixture can be used for bright and dynamic logo projection as well as precision framing.
Using advanced LED technology, it stands out for its energy efficiency, compact size and unlimited creative opportunities.
FEATURES:
Outstandingly bright 6500 lumens output
Powerful close-range and long-range projection
Flat-field, high-contrast image projection based on high-power LED engine
4 layers of versatile dynamic effects (colours, gobo projection, gobo animation, prisms/frost)
Crisp image projection
Rugged IP66-rated housing
Minimal maintenance – low total cost of ownership
SPECIFICATION:
Dynamic Effects
Colour wheel: 8 interchangeable colours + open
Gobo wheel: 6 rotating gobos plus open, indexing, variable rotation
Gobo animation: Variable speed linear animation effect
Prism: Prism wheel with 2 interchangeable prisms, prism rotation and indexing
Frost (wash effect): Motorised variable
Focus: Motorised, variable 3 m (9.8 ft.) to infinity
Shutter: Strobe and pulse effects, instant open and blackout
Dimming: Electronic, constantly variable 0-100%, 16-bit control
Control and Programming
Control options: DMX, RDM, standalone
DMX channels: 13
Configuration, addressing and status: Onboard control panel with OLED display
Control resolution: 8-bit DMX control of each color
DMX compliance: USITT DMX512-A
RDM compliance: ANSI/ESTA E1.20
Optics
Light source: 230 W white light LED engine
CRI (Colour Rendering Index): 72
Colour temperature, EU models: 6700 K
Colour temperature, US models: 7100 K
LED lifetime: 50 000 hours (to >70% luminous output)*
*Figure obtained under manufacturer's test conditions
Photometric Data
Luminous output: Up to 6100 lumens depending on beam angle variant
Construction
Housing: Cast aluminium
Finish: Hard anodised, metallic grey lacquered
Front glass: 5 mm (0.2 in.) anti-reflection coated tempered glass
Ingress protection: IP66
Corrosion resistance: C5-M (very high corrosivity / marine, ISO 12944)
Impact resistance: IK08 (with control panel display cover plate installed)
EPA (Effective Projected Area): 0.15 m2 RoHS compliant
Gobos
Suitable material: Borosilicate glass, coatings heat-resistant to 450°C (842° F)
Gobo diameter: 30.0 mm +0/-0.3 mm (1.2 in. +0/-0.02 in.)
Maximum image diameter: 23 mm (0.91 in.)
Gobo thickness, minimum: 1.1 mm ±0.1 mm (0.045 ±0.004 in.)
Gobo thickness, maximum: 3.0 mm ±0.3 mm (0.12in. ± 0.012 in.)
Installation
Orientation: Any (sides must be kept vertical)
Mounting: Adjustable yoke
Minimum distance to illuminated surfaces: 0.5 m (20 in.)
Location: Suitable for wet locations. Do not immerse in water.
Connections
Power cable entry: IP68 cable gland
Power connection: 1.8 m (5.9 ft.) cable tail with bare ends
Data cable entry: IP68 cable gland
Data connection: 1.8 m (5.9 ft.) combined input + output cable tail with bare ends
Electrical
AC power: 100-240/277 V nominal, 50/60 Hz
Power supply: Auto-ranging electronic switch-mode
Typical half-cycle RMS inrush current: 8.4 A
Idle power (zero intensity, no effects applied): 32 W, 0.3 A
Typical Power and Current
110 V, 60 Hz: 320 W, 2.9 A, PF 0.977
230 V, 50 Hz: 310 W, 1.4 A, PF 0.971
277 V, 60 Hz: 305 W, 1.2 A, PF 0.950
Figures are typical, not maximum. Measurements made at nominal voltage with all LEDs at full intensity. Allow for a deviation of +/- 10%.
Thermal
Cooling: Convection, internal forced air
Maximum ambient temperature (Ta max.): 45° C (113° F) *
Minimum ambient temperature (Ta min.): -30° C (-22° F)**
*Above this temperature, the fixture regulates output to protect from overheating.
**Power must remain applied at ambient temperatures below 0° C (32° F).
Physical & Dimensions
Length: 415mm
Width: 293mm
Height: 444mm
Weight: 15kg
All figures include mounting yoke
Manufacturer: Martin Professional
---
We Also Recommend