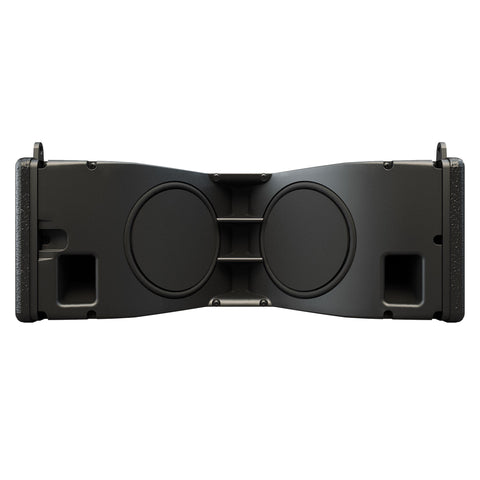 Martin Audio WPM Line Array
WPM
Usually shipped within 2-3 working days
---
---
The Martin Audio WPM is incredibly versatile. Its very small footprint and light weight make it the system of choice for smaller venues which require superb fidelity, coverage consistency and control from an ultra-compact line array.
With a peak SPL of 130dB peak, it is also very powerful a 12-box array will throw beyond 35 metres (115ft) and produce live music at high levels in up to 3000-seat venues. It embodies the very latest acoustic technology in an ultra-compact enclosure and is the ideal system for small-to-medium scale theatres and live music venues, AV events and installations in concert halls, ballrooms and HoW.
A passive 2-way system with an impedance of 16 ohms, it can be driven in blocks of 1, 2, 3 or 4 resolution configurations. With a complement of 2 x 6.5" (165mm) LF drivers and a vertical column of 3 x 1.4" (35mm) aluminium dome HF drivers, the acoustic design of WPM is uniquely innovative.
The LF drivers are located in the side walls of the HF horn an arrangement which would introduce acoustic cavities which would degrade the horizontal dispersion if conventional cone drivers were used. WPM's drivers adopt an elegant solution by having solid moulded diaphragms which match the contours of the horn walls and maintain the continuity of the horn profile. Each LF driver also features a demodulation ring in the neodymium motor system to minimize distortion and maximise mid-band output.
In the triple-driver HF section, each individual HF wavefront is precisely coupled to the horn throat via a short waveguide for faultless 100° horizontal constant directivity coverage.
FEATURES:
Ultra-Compact line array
Scalable resolution for advanced array control
External, dedicated, multi-channel Class D amplification
Industry-leading DISPLAY software interacts with DSP for highly-accurate results
Fast, integral 3-point flying systems for up to 16 enclosures
Side and rear handles for ease of handling and setting splay angles
100° horizontal constant directivity pattern control
 SPECIFICATION: 
TYPE:  Two-way, passive line array element
FREQUENCY RESPONSE (5):  76Hz-18kHz ± 3dB
DRIVERS:  

LF: 2 x 6.5" (165mm) contoured-diaphragm /2" (50mm)
edge wound CCAW voice coil, neodymium magnet drivers, reflex loaded

HF: 3 x 1.4" (35mm) aluminium dome /1.4" (35mm) voice coil,
neodymium magnet compression drivers on constant directivity waveguide
SYSTEM RESOLUTION:  1 to 4 enclosures per amplifier channel
MAXIMUM SPL (9):  130dB peak (1 cabinet)
NOMINAL IMPEDANCE:  16Ω
DISPERSION (-6DB):  

100º horizontal (-6dB), 125º horizontal (-10dB)
10° vertical

CROSSOVER:  1.2kHz passive
ENCLOSURE:  Vertical trapezoid with 5º wall angle, Multi-laminate birch and poplar-ply construction
FINISH:  Black textured paint
PROTECTIVE GRILLE:  Black HEX perforated steel
CONNECTORS:  2 x NL4 type
INPUT CONNECTIONS:  1+/1-
FITTINGS:  

Integral 3-point rigging system
2 x side pocket handles
2 x rear grip handles

FLOWN ARRAY MAXIMUM:  16 enclosures in single array
DIMENSIONS:  

(W) 500mm x (H) 185mm x (D) 377mm
(W) 19.7in x (H) 7.3in x (D) 14.8in

WEIGHT:  14kg (30.9lbs)
Manufacturer: Martin Audio
---
We Also Recommend