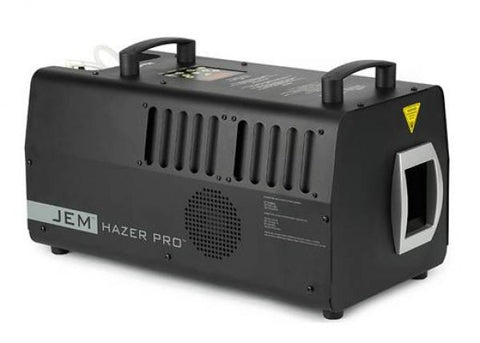 JEM Hazer Pro
92225940/ MAR1161
Usually shipped within 2-3 working days
---
---
The JEM Hazer Pro is a top of the range haze machine designed for the highly demanding professional market.
Its ability to produce exceptionally fine atmospheric haze in a short period of time while operating at low noise levels makes it an ideal choice for rental houses, medium to large shows, theatres, TV studios, clubs, bars, cruise ships, theme parks and more. 

Robust yet small and lightweight, the JEM Hazer Pro™ is capable of dispersing an even, continuous haze with superior optical clarity and reflectivity, the perfect small-particle haze for highlighting today's highly defined light beams. A high-quality air pump system ensures smooth distribution while a unique mixing channel allows the haze to optimise before being expelled.
FEATURES:
Small particle, even haze
Continuous output
Low noise
Lightweight - easy to carry around
Small footprint
Variable haze and fan controls with 1% increments
2.5 liter fluid capacity - 10 hours on full output
Standard C+ Haze fluid for fine haze
Sealed fluid system for transportation
Advanced Pump Technology (APT)
RDM ready
On-board DMX 3-pin and 5-pin
Plug-and-play with programmable fast-access keys
User-friendly on-board control panel with preset functionality
Optional Flying Kit and Digital Remote Control
Short warm up time
SPECIFICATION:
Length: 565 mm (22.2 in.) (22.2 in.)
Width: 269 mm (10.6 in.) (10.6 in.)
Dry weight: 15 kg (33.1 lbs.) (33.1 lbs.)
Height: 298 mm (11.7 in.) (11.7 in.)
AC power: Neutrik PowerCon
DMX data: 3-pin and 5-pin XLR sockets
Remote control: 3-pin locking XLR
Housing: Steel & aluminium
Heat exchanger: 600 W, direct thermal protection
Fluid pump: Oscillating piston, high pressure
Onboard fluid capacity: 2.5 l
Compatible Fluids: Jem C-Plus Haze Fluid™ only
Manufacturer: JEM
---
We Also Recommend