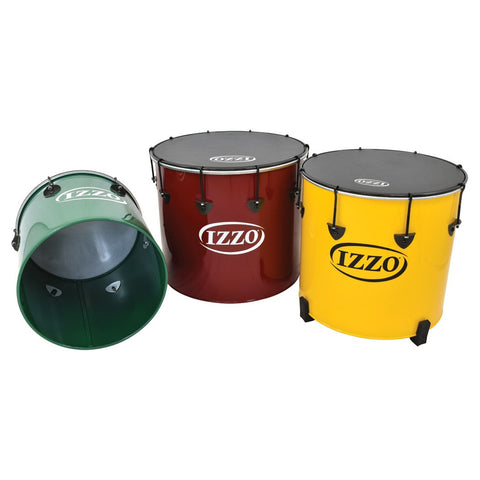 Izzo IZ141618 Castle Surdos Set Of 3
IZ141618
Usually shipped within 2-3 working days
---
---
The Izzo IZ141618 Castle Surdos set of 3 nesting samba drums sizes and colour are one green 14″ drum, one yellow 16″ drum and one red 18″ drum. 
Providing the 'heartbeat' of samba music, the surdo is the biggest drum and these instruments are well made with a deep resonant sound.
Usefully, they are stackable with the drums fitting inside each other which makes transporting them easy and they are comparatively lightweight too.
Each drum has a set of three small rubber feet for use when playing them on the ground, however by purchasing straps you can play the instruments whilst on the move too!
Samba has become increasingly popular in schools and percussion groups, it creates a brilliant, rhythmic sound and is perfect for players of all standards.
Manufacturer: Izzo
---
We Also Recommend