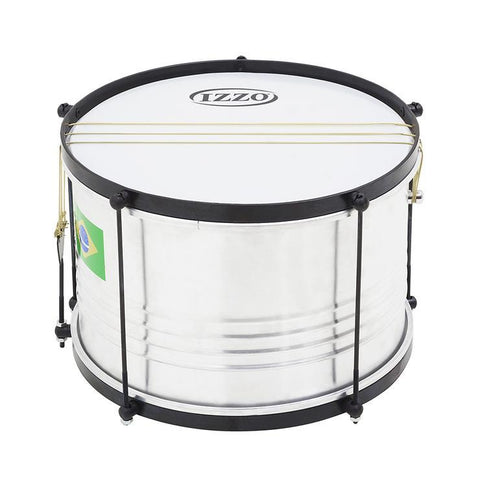 Izzo IZ10652 12" Caixa Malacacheta
IZ10652
Usually shipped within 2-3 working days
---
---
The Izzo IZ10652 Junior Aluminium 12" x 20cm Caixa Malacacheta is a large snare drum with thick wires that is tuned to a high pitch and used to play the repetitive driving rhythms that give samba music its urgency.
Unlike its Western marching band counterpart, it's played snare-side up.

This model has a 12" head on each end of the 20cm shell, held in place by strong aluminium counter hoops and rods.
Fully assembled and all the hardware is painted with protective black paint.
Both of the durable synthetic skins can be tightened using the supplied tuning key.

Built using thinner aluminium making them lighter and cheaper - perfect for younger players.
An ingenious ridged design makes them just as strong (and loud!) as the standard range, meaning they'll easily survive the everyday perils of the classroom.

Please note: This listing is for the drum and tuning key only. Sticks and straps are available separately.
Manufacturer: Izzo
---
We Also Recommend