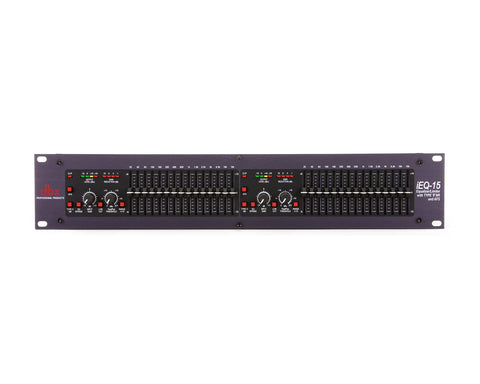 DBX iEQ15 Dual 15-Band Graphic EQ
DBX0007
Usually shipped within 2-3 working days
---
---
The DBX iEQ-15 Dual 15-Band Graphic EQ with Type V™ NR and AFS® offers the built-in necessities which include AFS™ feedback Suppression, Type V™ noise reduction and PeakStopPlus® limiting.
Besides including two 15-band channels of 2/3-octave equalisation, the iEQ-15 also offers +12 dB input gain range; switchable +6 or +15 dB boost/cut range, 40mm faders, XLR, 1/4'' and Euroblock inputs and outputs, nonconductive nylon sliders; and an intuitive user interface with comprehensive output and gain reduction metering. As always, the inevitable result of our meticulous attention to detail and top-quality componentry is exceptional sound, performance, and reliability.
The iEQ series represents a major step forward in the performance of EQs. The iEQ series is now able to offer state-of-the-art digital EQ performance and specs with an analog look and feel. From its amazing 10Hz to 22kHz frequency response, to its 113dB dynamic range and Advanced Feedback Suppression (AFS™), dbx proprietary Type V™ noise reduction and PeakStopPlus® limiting, the iEQ-15 offers out of this world specifications with a downto- earth price point.
Sure to find a home in the studio, on tour and with installed sound venues, the iEQ-15 is destined to take its rightful place in the lineage of great dbx® signal processors that are the professional's choice in signal processing. With such pristine design and quality, the iEQ-15 offers the maximum sonic flexibility in a straight forward interface and rock-solid construction.
Product Features
Advanced Feedback Suppression (AFS™)
Type V™ Noise Reduction
PeakStopPlus® Limiting
2/3-octave Constant Q frequency bands
Switchable boost/cut ranges of +6 or +15dB
18 dB per octave 40Hz low-cut filter
+12dB input gain range
XLR, TRS and Euroblock Inputs and Outputs
Internal Toroidal Transformer
Frequency Response of 10Hz to 22kHz
Dynamic range of greater than 113dB
User Power Up Features
Relay Bypass for Power Failure System Protection
Inputs
Connectors: 1/4" TRS, female XLR (pin 2 hot), and Euroblock
Type: Electronically balanced/unbalanced, RF filtered
Impedance: Balanced 40k ohm, unbalanced 20k ohm
Max Input Level: >+22dBu balanced or unbalanced
CMRR: >40dB, typically >55dB at 1kHz
Outputs
Connectors: 1/4" TRS, male XLR (pin 2 hot), and Euroblock
Type: Active-balanaced/unbalanced, RF filtered
Impedance: Balanced >120 ohm, unbalanced >60 ohm
Max Output Level: >+20dBu balanced/unbalanced into 2k ohm or greater
System Performance
Frequency Response: 20Hz to 20kHz, +0.5/0.25dB
Dynamic Range: >113dB, "A" weighted
THD+Noise: <0.003%, typical at +4dBu, 1kHz
Interchannel Crosstalk: <-80dB, 20Hz to 20kHz
Noise Reduction: Up to 10dB of dynamic broadband noise reduction
Digital Resolution: 24 Bits
Sample Frequency: 48kHz
Latency: 2m sec
Power Supply
Operating Voltage: 120VAC 60Hz, 220240VAC 50/60Hz
Power consumption: 17W
Main Connection: IEC receptacle
Dimensions: 3.5" H x 19" W x 7.9" D
Manufacturer: DBX
---
We Also Recommend