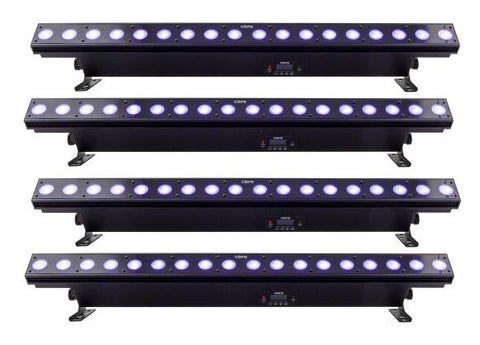 Core StripPoint Wireless LED 1M Strip Set
STRPPT-SET
Usually shipped within 2-3 working days
---
---
The StripPoint Wireless LED 1M Strip is a set of x4 lighting fixtures with 18 RGBW LED emitters, providing a very bright 4,000 lumen output including flight case.
The 18 LEDs can be independently controlled by 72 channels for pixel mapping and can produce vivid chases for eye-catching effects. This linear fixture will make perfectly smooth wall washes and a mixture of ColourPoint uplighters for accent lighting and StripPoint for wall washers will easily fill a room with colour, while using no power or data cables.
The StripPoint is also IP65 rated for outdoor use in all weather conditions. The high tech, long life lithium ion battery will provide eight hours of continuous use in a rolling fade, and recharging is easy in the four way flight case.
The StripPoint weighs only 14.3 lbs (6.5kg) and is easy for anyone to carry and set up.
FEATURES:
1 metre long colour LED Batten
Latest quad-chip RGBW LED technology with excellent colour-mixing, deep amber and a massive 4000 lumen output
DMX pixel-mapping on 72 channels of RGBW colour over 18 cells enabling complex effects on the unit
Runs for 8hrs on colour-cycle or two mixed colours such as example photos
Built-in effects, internal fixed Lee filter colours or create custom colours
Charge from mains supply in a 4-way flight case or stand-alone AC supply cable
Alternatively run from internal AC power supply 100-240V, 50/60Hz
Control from cabled DMX or wireless DMX (Wireless Solutions W-DMX)
Constant LED spacing when multiple units are placed end-to-end
Wireless DMX selectable Master or Slave to run with other StripPoint units or CORE ColourPoint, Point15/20/30 without the need for a lighting desk on site
Variable PWM frequency for TV work
Feet can be used as hanging brackets with various mounting options
SPECIFICATION:
General
Charging: 4-way flight case or stand-alone AC supply cable
Battery: Runs for 8hrs on colour-cycle or two mixed colours
Built-in effects: Internal fixed Lee filter colours or create custom colours
Channels: 72
Physical & Dimensions
Manufacturer: Core Lighting
---
We Also Recommend