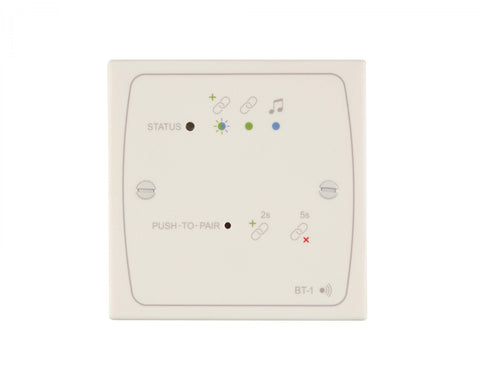 Cloud BT-1FW Bluetooth Wireless Module - White
BT-1FW
Usually shipped within 2-3 working days
---
---
Cloud'sB T-1FW is a remote wall-mounting input module for use with Cloud products fitted with an RJ45 Facility Port.
The BT-1FW enables compatible portable devices such as laptops, tablets and smartphones to stream audio wirelessly to the interface, and there into the audio system of the Zone where the interface is installed.
This is exceptionally simple to install; the rear RJ45 connector is wired to one of the host unit's Facility Ports with a single screened Cat 5 cable using standard shielded RJ45 connectors at each end. The Cat 5 cable carries DC power as well as balanced audio.
The BT-1FW will route a (L+R) mono sum of the streamed audio to the host unit and is compatible with the following Cloud products:
Z4MK4 & Z8MK4 Zone Mixers
Z4MK3 & Z8MK3 Zone Mixers
Z4MK3 & Z8MK2 Zone Mixers
46-120 and 46-120MEDIA Zone Mixing Amplifiers
New MA40F, MA40T and MA40E Mini Amplifiers
Features
Remote Bluetooth input module for Cloud host units with Facility Port Capability
Easy connection to host unit via screened Cat 5 cable (up to 100m)
Uses single-button Bluetooth "pairing" mode for secured operation
Alternative "unsecured" mode: configurable at installation
Each module may have one of 16 unique identifiers to differentiate receivers in areas where multiple modules are installed
RF power level adjustment to minimise risk of accidental inter-room connection
Bicolour LED indicating connection progress and streaming activity
May be daisy-chained to remote input modules (e.g., LM-2) in same Zone
RSL-6 or RL-1 remote plates may be daisy-chained to BT-1F
UK versions mount into a standard single-gang UK-style electrical back box (85 x 85 mm) and require a back box depth of 35 mm minimum
Physical & Dimensions
Width: 85.8mm
Heigh: 85.8mm
Depth: 36mm
Manufacturer: Cloud
---
We Also Recommend