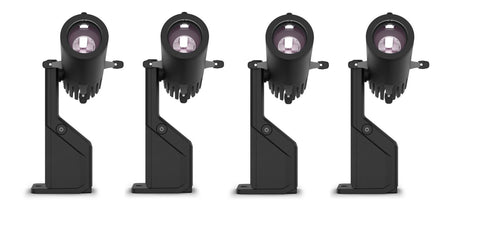 Chauvet WELL Gobo X4 Pack
WELLGOBOX4
Usually shipped within 2-3 working days
---
---
The Chauvet WELL Gobo X4 Pack in charge case is a compact, outdoor-ready, battery-powered gobo projector ideal for corporate and event rental inventories.
Compatible with both glass and metal gobos, the unit also features a manual 17 to 36-degree zoom and framing shutters for flawless shutter cuts. Set it then forget it with onboard OLED display, and control your way with WDMX to link to WELL COM.
WELL Gobo includes multiple mounting options and comes in a pack of 4 with a self-charging case.
FEATURES:
A completely wireless, IP 65 rated, battery powered Gobo Projector with a cool white LED and manual framing shutters that is controlled by W-DMX, IR remote (not included), or manually from the OLED display
Zoom range of 17° to 36° making sizing patterns on surfaces easy
Hard and soft focuses are easily achieved
Works with both glass and metal E size gobos (1 mm max thickness)
User selectable PWM settings to ensure flawless on camera operation
M12 hole for easy clamp installation
Up to 8 hours of operational time on full charge
Recharging case can be power linked to save on power outlets
Recharging case can be charged with the lid closed saving warehouse space
SPECIFICATION:
Optical
Light Source: 1 LED (CW) 25.2 W, (1.3 A), 6542 K, 50,000 hours life expectancy.
Colori Temperature (at full): 6542 K
CRI: 81.7
Beam Angle:17° to 36°
Field Angle: 17° to 36°
Zoom Angle: 17° to 36°
Illuminance (17°): 1190 lux @ 5 m
Illuminance (P/S mode 17°): 752 lux @ 5 m
Illuminance (36°): 328 lux @ 5 m
Illuminance (P/S mode 36°): 203 lux @ 5 m
Selectable PWM: 600 Hz, 1,200 Hz, 2,000 Hz, 4,000 Hz, 6,000 Hz, 25,000 Hz
Dynamic Effects
Manual Tilt: 180°
Tilt Ranges: 0° to 180° tilt
Dimmer: Electronic
Shutter/Strobe: Electronic
Zoom: Manual
Focus: Manual
Strobe Rate: 0 to 25 Hz
Dim Modes: 4
Built-in Automated Programs: Yes
Construction / Physical
Dimensions (Single Unit): 10.11 x 6.81 x 12 in (257 x 173 x 305 mm)
Dimension (Charging Case): 27.64 x 17.24 x23.36 in (702mm x 438 x 593.4 mm)
Weight (Single Unit): 6.6 lb (3 kg)
Weight (Charging Case): 71 lb (32.21 kg)
Exterior colour: Black
Housing Material (Single Unit): Aluminium diecast
Housing Material (Charging Case): Aluminium alloy, wood
Gobo Size (Optional): "E": 37.5 mm (outside), 24 mm (image), 1 mm (max. thickness)
Connections
Power Connection: Edison (Local) plug to Seetronic Powerkon
Power Input: Seetronic Powerkon
Cable Length (power): 5 ft (1.5 m)
Control
Control Protocol: W-DMX, IRC
DMX Channels: 1, 2, 3 or 6
Electrical
Input Voltage: 100 to 240 VAC, 50/60 Hz (auto-ranging)
Power Linking: 9 units @ 120 V; 15 units @ 208 V; 16 units @ 230 V
Power and Current (single unit charging): 42 W, .345 A @ 120 V, 60 Hz
Power and Current (charging case): 168 W, 1.38 A @ 120 V, 60 Hz
Power and Current (single unit charging): 48 W, 0.220 A @ 208 V, 60 Hz
Power and Current (charging case): 192 W, 0.880 A @ 208 V, 60 Hz
Power and Current (single unit charging): 49 W, 0.211 A @ 230 V, 50 Hz
Power and Current (charging case): 196 W, 0.844 A @ 230 V, 50 Hz
Battery
Battery type: Lithium Ion
Rechargeable: Yes
Battery Charge Time: 8 hours
Battery Life: 5 hrs (high output), 8 (power saving mode)
Battery Power: 29.6, 4400 mAh
Certifications / Qualifications
CE, MET
IP Rating: IP65, temporary outdoor/wet use
Manufacturer: Chauvet
---
We Also Recommend