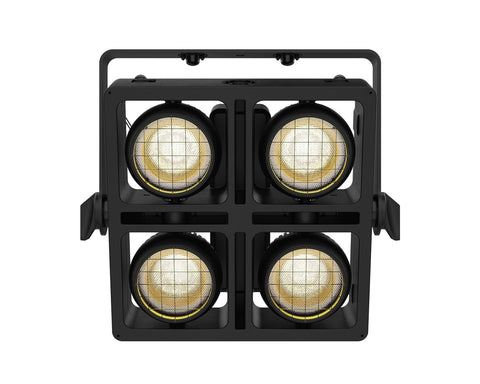 Chauvet STRIKE Array 4
STRIKEARRAY4
Usually shipped within 2-3 working days
---
---
Chauvet STRIKE Array 4 is an electrifying outdoor-ready audience blinder with four high-power 100W warm white LEDs housed in independently focusable pods.
An emulated "amber shift" warms the colour temperature of the light as it dims to deliver a classic tungsten look. Its variable PWM and high CRI make it ideal for broadcast applications.
Thanks to a custom interlocking system CHAUVET Professional has developed, STRIKE Array 4 can be interconnected with multiple Array units for scalable design configurations without any tools.
Omega-Bracket locks are also installed both on the yoke and the back of the IP65 blinder – giving you a streamlined truss mounting process.
FEATURES:
Intense 4 pod blinder/strobe rated IP65 for all-weather use
Emulated "red shift" to mimic incandescent fixtures perfectly.
Individual pan (or tilt depending on mount orientation) of each head to allow for directional adjustment of light output.
Innovative interlocking system to connect multiple Strike Array 4s and Strike Array 2s together.
Multiple mounting locations and repositionable yoke with ¼ turn adaptors for creative and convenient rigging options
16-bit dimming control for smooth, perfect fades
Strobe functionality for high-impact effects on the fly
Easy to use OLED display
Adjustable Pulse Width Modulation (PWM) and RDM (Remote Device Management) for added flexibility
SPECIFICATION:
OPTICAL
Light Source: 192 LED (WW) 2.18 W, (.709 A), 2700 K, 50,000 hours life expectancy
Light Source: 20 LED (Amber) 1.76 W, (.758 A), 50,000 hours life expectancy
Colour Temperature (at full): 2770 K
CRI: 93.2
TLCI: 91
Beam Angle: 61.5°
Field Angle: 100.5°
Illuminance (total): 684 lux @ 5 m
Selectable PWM: 600 Hz, 1,200 Hz, 2,000 Hz, 4,000 Hz, 25,000 Hz
DYNAMIC EFFECTS
Dimmer: Electronic
Strobe Rate: 0 to 25 Hz
Dim Modes: 4
Built-in Automated Programs: Yes
CONSTRUCTION / PHYSICAL
Dimensions: 18.5 x 16.7 x 6.3 in (470 x 424.5 x 161 mm)
Dimensions (shipping size): 20.7 x 8.5 x 19.3 in (525 x 215 x 490 mm)
Weight: 28.7 lb (13 kg)
Weight (shipping weight): 33.1 lb (15 kg)
Exterior Color: Black
Housing Material: Aluminum die-cast
CONNECTIONS
Power Connection: Edison (Local) plug to Seetronic Powerkon IP65
Power Input: Seetronic Powerkon IP65
Power Output: Seetronic Powerkon IP65
Data Connectors: 5-pin IP65 XLR
Cable Length (power): 5 ft (1.5 m)
CONTROL
Control Protocol: DMX, RDM
DMX Channels: 1, 3, 4, 5, 6, or 10
ELECTRICAL
Input Voltage: 100 to 240 VAC, 50/60 Hz (auto-ranging)
Power Linking: 5 units @ 100 V; 6 units @ 120 V; 11 units @ 208 V; 12 units @ 230 V; 12 units @ 240 V
Power and Current: 243 W, 2.44 A @ 100 V, 60 Hz [9.0 A inrush]
Power and Current: 241 W, 2.01 A @ 120 V, 60 Hz [10.8 A inrush]
Power and Current: 244 W, 1.18 A @ 208 V, 60 Hz [14.2 A inrush]
Power and Current: 245 W, 1.07 A @ 230 V, 50 Hz [12.8 A inrush]
Power and Current: 247 W, 1.03 A @ 240 V, 50 Hz [12.8 A inrush]
Power and Current (resting): 8 W, .087 A @ 100 V, 60 Hz
Power and Current (resting): 9 W, .083 A @ 120 V, 60 Hz
Power and Current (resting): 17 W, .083 A @ 208 V, 60 Hz
Power and Current (resting): 18 W, .082 A @ 230 V, 50 Hz
Power and Current (resting): 21 W, .084 A @ 240 V, 50 Hz
CERTIFICATIONS / QUALIFICATIONS
CE, MET, FCC, ETL, cULus
IP Rating: IP65, temporary outdoor/wet use
IP Rating: IP65, outdoor/wet, with pressure equalizing M12 GORE valve
Temperature (Ambient): -4 °F to 113 °F (-20 °C to 45 °C)
Manufacturer: Chauvet
---
We Also Recommend