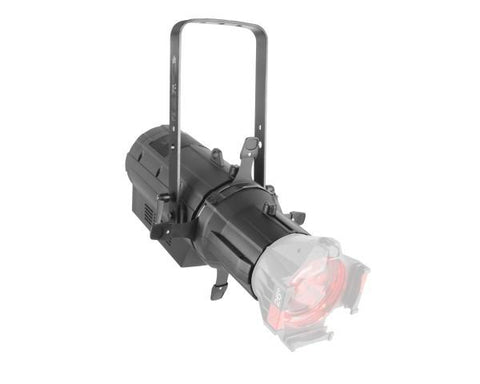 Chauvet Ovation E-910FC IP Body Only
OVATIONE910FCIP
Usually shipped within 2-3 working days
---
---
The Chauvet Ovation E-910FC IP body only (no lens tube) takes the high-performance, full RGBA-Lime colour-mixing marvel of the Ovation E-910FC outdoors.
Chauvet's standard shutter assembly and lenses lend familiarity and ease of use to this IP65 ERS style fixture that offers Colour Temperature presets of 2800 to 6500 K that match the output of a tungsten source to perfection.
Control options include full bit dimming (per colour and master), selectable PWM, RDM and onboard dimming curves selection.
Also accessible is our virtual colour wheel which matches popular colour gels.
FEATURES:
Full Colour LED (RGBAL) ERS-style lighting fixture for theatre, film and production
Fully IP65 rated for seasonal use indoors or out
Use of our standard Ovation beam shaping shutters and lenses lends familiarity and ease of use to the fixture
Virtual Colour wheel with colour matched to popular gel colours
Colour Temperature Presets from 2800 K to 6500 K with high CRI and CQS
Ultra smooth 16-bit dimming, and 8-bit dimming curves to complement any lighting scheme
Flat, even field of light for superior gobo projection
RDM (Remote Device Management) for added flexibility
Adjustable PWM (Pulse Width Modulation) to avoid flickering on camera
SPECIFICATION:
OPTICAL
Light Source: 91 LEDs (18 red, 18 green, 19 blue, 18 amber, 18 lime green) 3 W, (722 mA), 6031 K, 50,000 hours life expectancy
Colour Temperature (range): 2800 to 6500 K
Colour Temperature (at full): 6031 K
CRI (3200 K): 82
Beam Angle (w/14° lens): 11°
Beam Angle (w/19° lens): 19°
Beam Angle (w/26° lens): 24°
Beam Angle (w/36° lens): 28°
Beam Angle (w/50° lens): 41°
Beam Angle (w/15°–30° lens)(Narrow): 13°
Beam Angle (w/15°–30° lens)(Wide): 24°
Beam Angle (w/25°–50° lens)(Narrow): 23°
Beam Angle (w/25°–50° lens)(Wide): 36°
Field Angle (w/14° lens): 14°
Field Angle (w/19° lens):19°
Field Angle (w/26° lens): 26°
Field Angle (w/36° lens): 34°
Field Angle (w/50° lens): 51°
Field Angle (w/15°–30° lens)(Narrow): 15°
Field Angle (w/15°–30° lens)(Wide): 29°
Field Angle (w/25°–50° lens)(Narrow): 26°
Field Angle (w/25°–50° lens)(Wide): 50°
Lumens (w/19° lens): 3,236
Lumens (w/26° lens): 4,316
Lumens (w/36° lens): 3,918
Lumens (w/50° lens): 3,813
Illuminance (w/14° lens): 4,420 lux @ 5 m
Illuminance (w/19° lens): 2,530 lux @ 5 m
Illuminance (w/26° lens): 1,720 lux @ 5 m
Illuminance (w/36° lens): 1,020 lux @ 5 m
Illuminance (w/50° lens): 457 lux @ 5 m
Illuminance (w/15°–30° lens)(Narrow): 4,260 lux @ 5 m
Illuminance (w/15°–30° lens)(Wide): 1,620 lux @ 5 m
Illuminance (w/25°–50° lens)(Narrow): 1,790 lux @ 5 m
Illuminance (w/25°–50° lens)(Wide): 825 lux @ 5 m
Selectable PWM: 600 Hz, 1200 Hz, 2000 Hz, 4000 Hz, 6000 Hz, 25000Hz
DYNAMIC EFFECTS
Dimmer: Electronic
Shutter/Strobe: Electronic
Focus: Manual
Strobe Rate: 0 to 28 Hz
Standalone Colour Mixing: Yes
Colour Temperature Presets: Yes
Dim Modes: 4
Built-in Automated Programs: Yes
CONSTRUCTION / PHYSICAL
Dimensions (fixture only): 26 x 11.33 x 10.4 in (660 x 287.9 x 264.6 mm)
Dimensions (w/14° lens extended): 35.2 x 11.33 x 10.4 in (894.2 x 287.9 x 264.6 mm)
Dimensions (w/26° lens extended): 35.2 x 11.33 x 10.4 in (894.2 x 287.9 x 264.6 mm)
Dimensions (w/15°–30° lens): 38.6 x 11.33 x 10.4 in (980.6 x 287.9 x 264.6 mm)
Dimensions (w/25°–50° lens): 31.3 x 11.33 x 10.4 in (795.1 x 287.9 x 264.6 mm)
Weight (fixture only): 23.2 lb (10.6 kg)
Weight (w/14° lens): 28.6 lb (12.9 kg)
Weight (w/26° lens): 27.4 lb (12.4 kg)
Weight (w/15°–30° lens): 52.6 lb (23.8 kg)
Weight (w/25°–50° lens): 50.2lb ( 22.7 kg)
Exterior Colour: Black
Gobo Size (Optional): "A": 94 mm (outside), 79 mm (image), 2.5 mm (max. thickness)
Gobo Size (Optional): "B": 94 mm (outside), 69 mm (image), 2.5 mm (max. thickness)
Accessory Holder/Gel Frame Size (14° lens): 7.5 in (191 mm)
Accessory Holder/Gel Frame Size (19°, 26°, 36°, and 50° lens): 6.25 in (159 mm)
Accessory Holder/Gel Frame Size (15°–30° lens): 7.5 in (191 mm)
Accessory Holder/Gel Frame Size (25°–50° lens): 7.5 in (191 mm)
CONNECTIONS
Power Connection: Edison (local) plug to Seetronic Powerkon IP65
Power Input: Seetronic Powerkon IP65
Power Output: Seetronic Powerkon IP65
Data Connectors: 5-pin XLR
Cable Length (power): 5 ft (1.5 m)
CONTROL
Control Protocol: DMX, RDM
DMX Channels: 1, 4, 6, 8, 11, 13, 14, 16 or HSV
Modes/Personalities: 9 personalities (1, 4, 6, 8, 11, 13, 14, 16 or HSV)
ELECTRICAL
Input Voltage: 100 to 240 VAC, 50/60 Hz (auto-ranging)
Power Linking: 7 units @ 120 V; 11 units @ 208 V; 12 units @ 230 V
Power and Current: 225 W, 1.88 A @ 120 V, 60 Hz
Power and Current: 236 W, 1.14 A @ 208 V, 60 Hz
Power and Current: 241 W, 1.05 A @ 230 V, 50 Hz
CERTIFICATIONS / QUALIFICATIONS
CE, MET
IP Rating: IP65, outdoor/wet, with pressure equalising M12 GORE valve
Temperature (Ambient): -4 °F to 113 °F (-20 °C to 45 °C)
WHAT'S INCLUDED
Ovation E-910FC IP
Seetronic Powerkon IP65
REQUIRED ACCESSORIES
Lens Tube: 19°, 26°, 36°, 50°
OPTIONAL ACCESSORIES
Professional Clamps: CTC-50HC, CTC-50HCN
Neutrik powerCON cables
3-pin or 5-pin IP Rated DMX Cables
Colour Blending Filters: DF60X1D, DF20D
RDM2go
Ovation Zoom Lenses: OEZOOM1530, OEZOOM2550
Ovation Glass Gobo Holder
Ovation Metal Gobo Holder
Ovation Iris
Manufacturer: Chauvet
---
We Also Recommend